You can now post directly to your Magento website from Ad-lister and/or update your product's information.
You will need to go to Products tab and create the product you want to post on Magento. Follow this guide here for more info about how to create a product from scratch.
Now that you have your product crated, just tick it, go to Actions -> Post to Magento and you can either leave the boxes ticked or not, it will anyway take all the info from that product, and just click Post.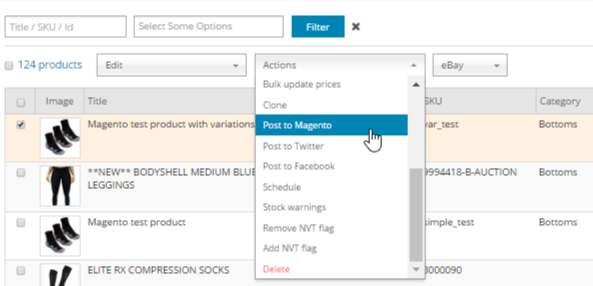 By default, Ad-Lister will automatically set the category on Magento to the shop category you have set up within Ad-Lister. If your category names are identical on both Ad-Lister and Magento, the products will be assigned to that exact category on your website. However, if the categories in Ad-Lister are different to the ones on Magento, the process will create a brand new category on your website and assign your products to that category.
If you don't want to use your shop categories, just simply tick the next box in categories and type the final destination. i.e Men's > Sports > Running.

This will bring the product in your Magento website and will post it. This job will also revise/update an existing product if you changed any of the info. When doing so, just follow the same procedure but this time make sure you tick the box of the options which you wish to update, i.e Price, Title…
Note: the QTY and the images will automatically update every time your run this job when the product is already live on your website, which is why there is no option to choose them.
Here's a video tutorial about this as well: link