How can you import your items into Ad-Lister?
You can import your inventory into Ad Lister by either running the import job from Ad Lister Dashboard, which can import all of your live listings from your eBay store or by uploading a CSV file which contains your inventory.
Before running the Import job from the Ad-Lister Dashboard
If you've just subscribed to  Ad-Lister, you will have to make sure that you have an eBay account connected.
1 – To connect an eBay account, you will have to click on "Connect your eBay shop (Platform)" – which can be found on the Dashboard

2 – After connecting your eBay shop, you can click on "Import your listings from eBay(Platform)" to go to the Import screen

If you are a seasoned Ad-Lister user and you've directly added a couple of items on your eBay store and you wish to import them, you can always go to the Dashboard and Click on Import Listings – which can be found in the Actions widget – Or you can use the Missing Listings widget to import those items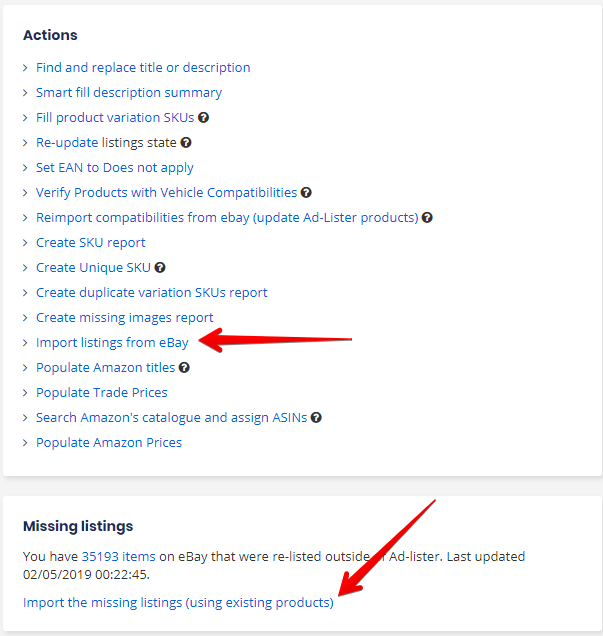 You don't have these widgets on your dashboard? Find out how you can add additional Widgets here.
Importing new items using a CSV data file
Hover your mouse pointer over "Products" – located on the top menu in Ad-Lister,  and click on "Product upload" from the dropdown
After you have clicked on "Product upload", you will be taken to a new page where you will have to click on the "Choose file" button to select the CSV file from your computer, then click Continue
After clicking on "Continue" you will have to select  "Import new inventory"
You can click Test to check if the file is correct and then you can press the  "Import inventory" button
Note:
Directly importing the products from eBay will also import any existing designs on your listings. This means that if you already have a design on your listings, Ad-Lister will import the HTML into the Description – and if you would like to apply one of our templates, you will end up with a messed up design.
If you already have a design on your listings, we will have to build a custom algorithm that will remove the HTML from the listings, bringing in no more than the listing description text.
If you have any further questions, please feel free to call the support line on (0)121 285 1052