What is the Master & Slave feature?
The Master & Slave feature is an additional plugin for Ad-Lister that allows you to make certain changes on your main account and also have these changes mirrored on a secondary account.
For example, if you update the price and the quantity of a product on your main account, you can have these changes mirrored on another account as well, without you having to log into the secondary account and making these changes manually. It can be extremely helpful if you have products that you sell on multiple eBay shops.
How does it work?
Firstly, you must have 2 Ad-Lister accounts in order to be able to use this feature. You can set one of your accounts as a primary account (Master), then set your secondary account as a slave. You can do this by going to Settings -> Application Settings. However, please keep in mind that you probably won't be able to see these options until you purchase the plugin and it is installed on your Ad-Lister account.
The next step is to go to your Slave account, Settings -> Slave account and follow these steps.
Select the Master account's name from the drop-down menu and tick the Enabled option
Choose what to do with the eBay and Store Categories – copy/replace them or don't update
Select how to update the  Auction price, BIN price, Delivery Options and QTY from the Master to the Slave account – copy it or replace it with a formula that you will create.
You can also choose to update certain product details such as Subtitle, Description, Images, Compatibilities, Item Specifics and also change the format of the title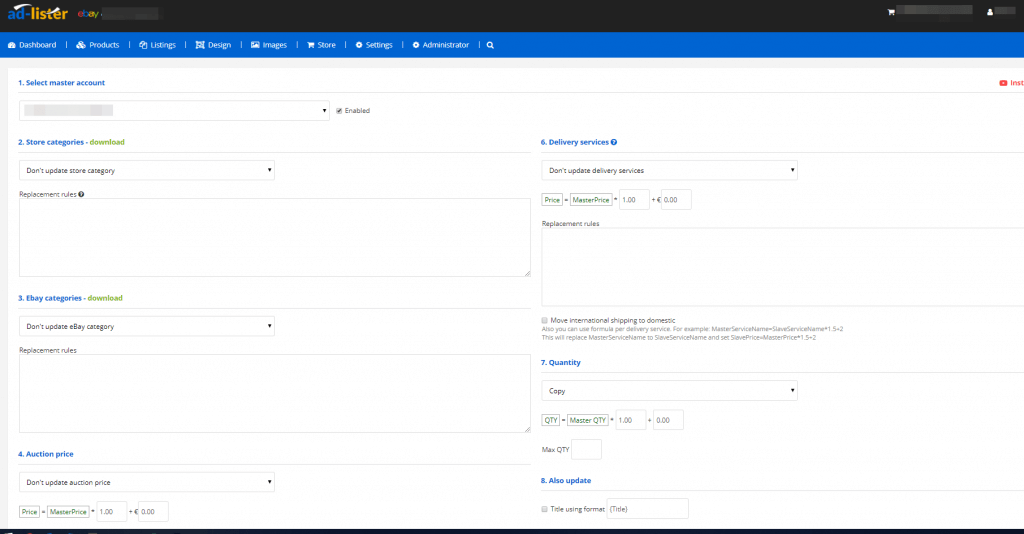 Once these changes have been made, click Save. It would be recommended to create a few test products to test out the feature for yourself and see if it's working as expected.
How do I update my Slave account/products?
Once the feature has been set up, you can start updating your Slave products. You can do this by simply going to your Master account, ticking the products that you wish to update on the Slave account. Now click on the product actions drop-down menu and click on Update slave products.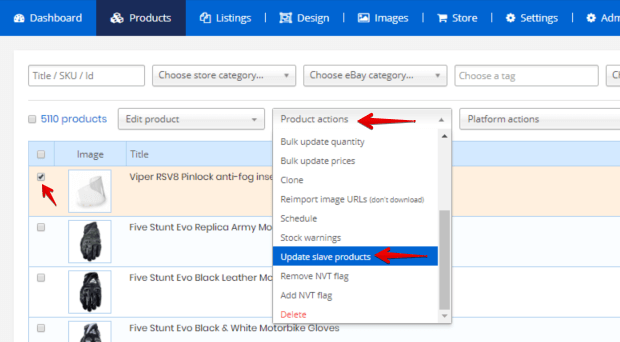 Now you should be redirected to a new page where you can choose which details to push to your Slave account.
These details should be pushed to the Slave account within seconds. Keep in mind that you'll have to revise the products on your Slave account in order to display the changes on eBay!
Great! Is there any cost involved in order to use this feature?
Yes, this feature comes with a small cost that is paid yearly, in addition to your Ad-Lister license. For pricing and more details, please give us a call on 0121 285 1052.