What does "revising" a product mean?
Revising a product, or product revision refers to the process of "pushing" the changes you've made in Ad-Lister to eBay. In other words, if you've made any changes to your product in Ad-Lister, these changes won't be reflected straight away on live eBay, you would need to "push" these changes to eBay (i.e. confirm these changes).
How do I revise a product?
After  you've made the desired changes to the product, you'll have to revise it in order to reflect these changes on eBay. This is how it's done:
Go to the Products page, tick the item that you want to revise and click the eBay drop-down and click on Revise.
Pick which option to revise according to what changes you've made previously (i.e: if you've changed the shipping options of the item, select Postage options, etc.)
A message box will appear saying if the item was successfully revised or if it failed.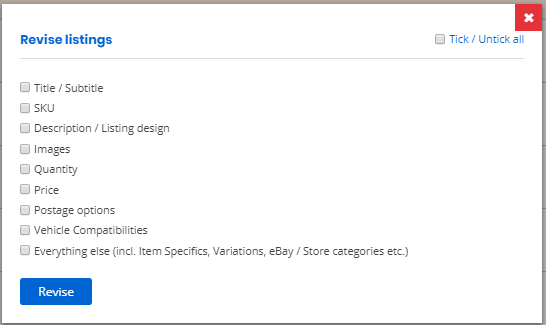 You can also revise the item after you finished editing the Item specifics and/or Variations.
Choose the Revise listing on eBay option from the drop-down right next to the

Save

button and press Save:
Tick the option you want to revise accordingly.