Work with your categories:
Personalize the way you see your categories easily using Ad Lister. Go to the Store/Categories page any time you wish to make changes to them.
The first column is there just to show the number of the categories. This makes it easier to find them when you have a long list.
On the other hand, in the second column you can actually sort the categories in any order that you like. Use numbers to re-arrange the categories. Sub-categories will need to have their own sort numbers to determine their order of appearance below the main category:

You can also easily sort categories alphabetically if you click the button at the top of the table: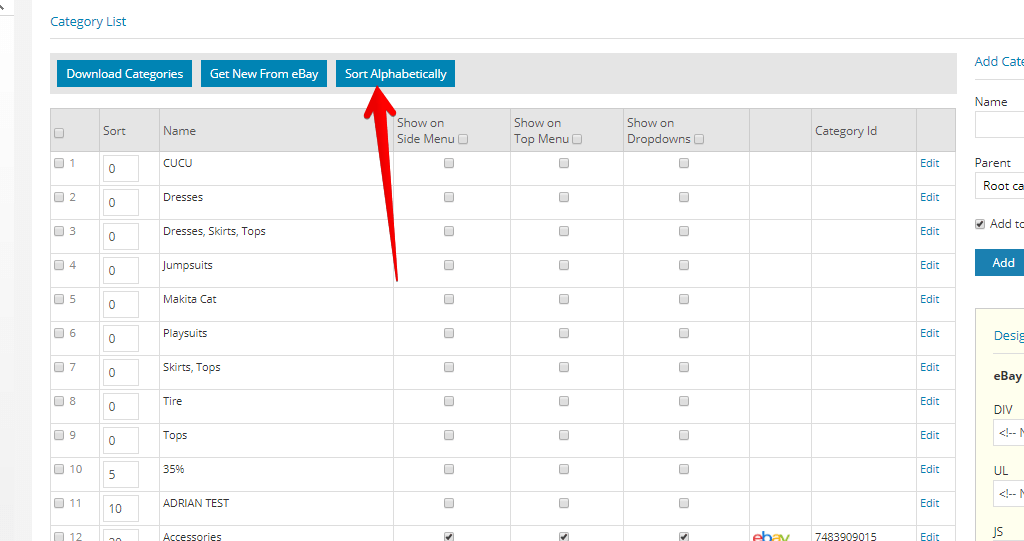 The columns with the tick-boxes might not work for everyone. If these selections can take effect depend on the coding of your listing design.
Show on Side Menu: Tick categories in this column to show on the left hand category list on your design. Deselecting will hide the categories from the list.
Show on Top Menu: Categories ticked in this column will show in the top navigation bar of your design.
Show on Dropdowns: The top navigation menus can have dropdowns to show sub-categories. If your design has this option, selecting categories in this column will be reflected on the design.
Make sure the categories always have an eBay logo on the right. This means the categories are created on eBay as well.
Tips:
If for any reason it is easier for you to create categories on eBay, you can do that. First, create them on eBay, and then  just click the "Get new from eBay" button at the top of the table to pull them in Ad lister.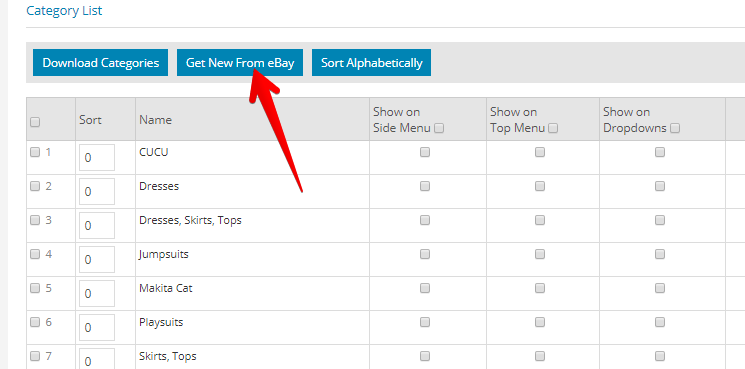 Once categories are pulled in, you need to assign items to them within Ad Lister, as the products are not automatically updated.
You can also create multiple categories at the same time. Have a look at this part on the right of the page:


Firstly, you can click "Get Tree" to have a look on the current structure.
Add category names, one below the other, and click "Create top Level categories" and this will create new main level categories with the names you added.
To create second level categories you need to name the first level category as well in the same manner as seen on the screenshot above.