Get Ready to
Grow Your Business!Complete Your Sales Cycle
with Ad-Lister & ChannelGrabber
A powerful ecommerce partnership: Ad-Lister and ChannelGrabber
Streamline your business and benefit from increased efficiency, revenue and profits. Ad-Lister, Product Listing, and ChannelGrabber, Multichannel Order Management, are here to make ecommerce easy. From bulk listings, managing product data, and automating inventory allocation, to consolidating orders and simplifying picking and dispatching orders, this partnership delivers a solution that saves time and resources, whilst increasing accuracy, to save time and help you grow.
List to and consolidate orders from Shopify, Amazon, eBay, Etsy, WooCommerce, OnBuy and more.
Provide warehouse teams and management with complete visibility on listings, inventory, orders and despatches across all channels.
Understand your business performance in real-time and make confident data-driven decisions with reporting and insight.
Streamline order fulfilment with easy shipping selection, label printing, and essential picking lists functionality.
Consolidate eBay and Amazon messages into one platform and assign messages to individuals, assign statuses, and respond faster all from one place.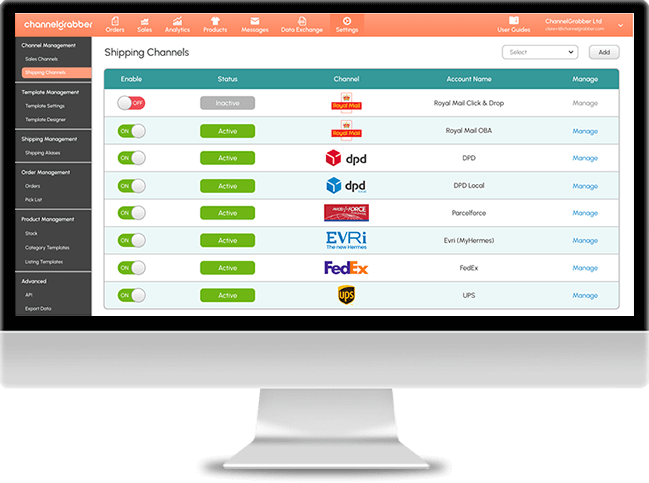 Take the hassle out of listing your products with Ad-Lister
With Ad-Lister and ChannelGrabber you can remove the many manual processes of listing products and consolidating orders from across a multichannel presence.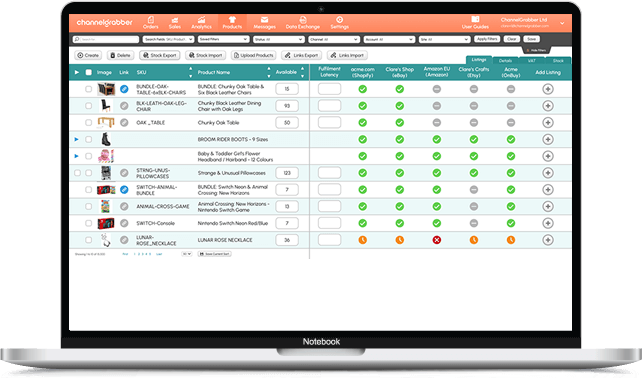 Manage and update your inventory, product data, listings, and courier information in bulk or individually.
Allocate, optimise, and track stock across your product listings on Shopify, Amazon, eBay, OnBuy, and more.
With Ad-Lister and ChannelGrabber you are equipped to simplify listings, automate order processing, integrate with more couriers and streamline the picking and shipping process.
Interested to learn more?