We are proud to introduce eBay fulfilment by Orange Connex to help our users increase their business profitability. Our built-in integration allows users to create Fulfilment Templates with customizable shipment options
How eBay fulfilment by Orange Connex can help your business?
Fully tracked service – your customers benefit from full transparency. Gain their trust and improve your seller rating
Seller protection – delivery of your items under eBay fulfilment by Orange Connex will benefit from full seller protection for delivery related defects.
Next-day delivery – Same-day dispatch, late cut off times with an option of next day or standard delivery.
Multi-channel capability – you sell – storage, packing and shipping will be taken care of by eBay fulfillment by Orange Connex – on eBay, your online shop and on any other selling platforms.
How eBay fulfilment by Orange Connex works on Ad-Lister?
First, you will have to log into your Orange Connex Account through Ad-Lister to grant permission to for the App: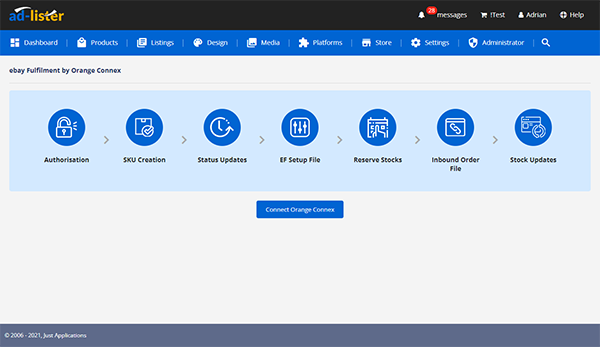 Once connected, you will be able to create eBay Fulfilment templates that you can then use with your products: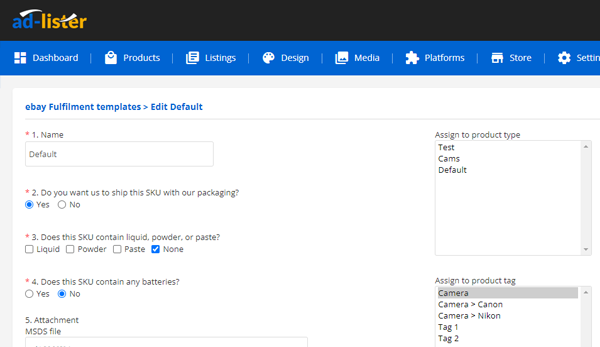 After creating the Fulfilment templates, you will have to assign the tags/types to the products that you would like to send to Orange Connex and then press "Post to eBay fulfilment".
This will send the SKU to Orange Connex.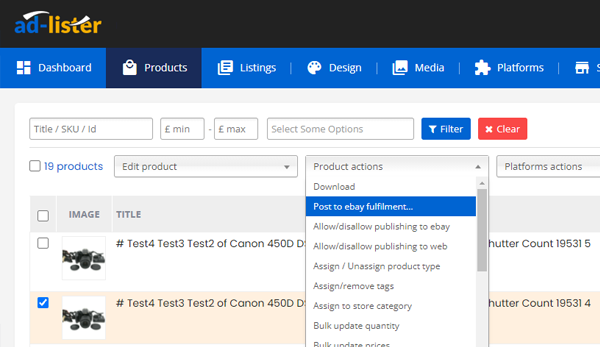 Once the SKU has been accepted, you will have to send stock to the Orange Connex fulfilment center. When the stock gets processed, your eBay listing will be automatically switched over to the fulfilment service.
How quickly can you get this set up and running?
Getting started in 3 Easy steps:
Contact us regarding the service
Someone from our dedicated specialist team will get in touch with you
The team will guide you through the set up