Where can I change my image settings?
You can change your image settings by going to Images -> Image settings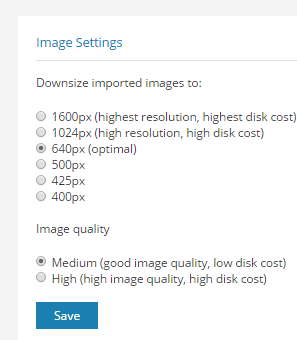 There are two main settings that you can adjust:
 You can set the resolution of the images that will be uploaded (i.e. if you upload a larger image, Ad Lister will automatically downsize it to the chosen resoution)
NOTE: We recommend uploading larger pictures, as they can be downsized afterwards, whenever uploading them to Ad-Lister. If you were to upload a smaller resolution image, it will be unaltered.
You can set the quality of the image.
NOTE: Higher quality images look better, however, they use more disk space. We would recommend leaving this setting on "Medium", as it's a good balance between quality and disk space used.