Can you list products on Shopify using Ad-Lister?
Definitely! – you can use Ad-Lister to list your products on almost any major eCommerce platform. Listing your products on Shopify is made easy with Ad-Lister, thanks to its user-friendly interface. Over the years we have tweaked Ad-Listers' interface to make the user experience as straight forward as possible in order for you to list products on Shopify with ease.
This feature comes as a paid add-on to your regular Ad-Lister account – adding the Post to Shopify feature involves a set-up procedure and some coding on our end.
The Post to Shopify add-on will save you time and resources – you won't be needing any extra personnel to take care of creating/listing products on your Shopify store. You can list the products that already exist in your Ad-Lister account, thus eliminating the need to create new products just for your Shopify store.
How to use the Post to Shopify add-on?
Once the add-on is set up and enabled, you can start listing your products in no time! You will only need to follow a couple of steps:
If you want, you can fill out these Shopify platform specific fields – you can leave them empty if you would like to list the products using the general values that already exist in Ad-Lister.

The second step would be selecting the products which you would like to list on to your Shopify website and going to the Platform Actions drop-down and selecting the Post to Shopify option.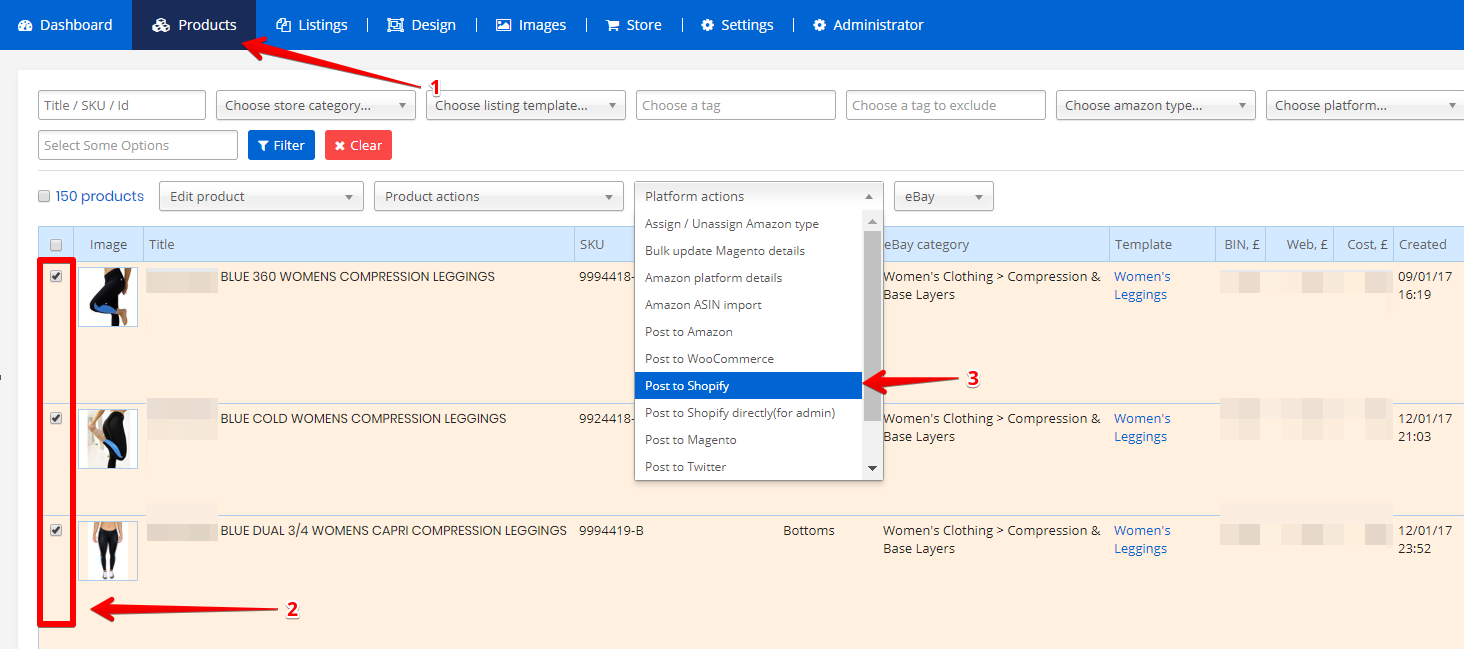 Once you have clicked on the Post to Shopify option, a pop-up window will appear, where you will have to select which options you would like to post to your website.

After selecting the product details, you can press Post to selected to list the selected products to your website.
When can I start listing products on Shopify?
To start listing products on Shopify you would need us to activate the Post to Shopify feature on your Ad-Lister account and to map all of your products accordingly.  The whole process might take up to a week, depending on the workload of our developers.
If you are interested in this feature, please contact us on 0121 285 1052 and one of our support staff will be glad to help you out with further information.
Do I need to create separate products that will be listed on Shopify?
No! You can use your existing products to list on Shopify– that's the beauty of it.