What are eBay promotions?
With eBay promotions, you can create compelling offers to incentivize buyers to buy more, both in terms of quantity and the amount of money spent. These promotions, if used smartly, can help increase average transaction value as well the number of products purchased.
Maximize your listings visibility and turn browsers into buyers with promotions strategies. Customers love promotions, and what better way of creating promotions for your products other than directly from Ad-lister!
How do I create promotions in Ad-Lister?
Simply go to the Listings tab, select the product you'd like to create a promotion on and go to the Actions drop-down and choose Create Promotional Sale. This will take you to a new page where you can name the promotion, set the active dates of the promotion, and also the discount for the product(s), either by a percentage (%) or by a defined amount (£).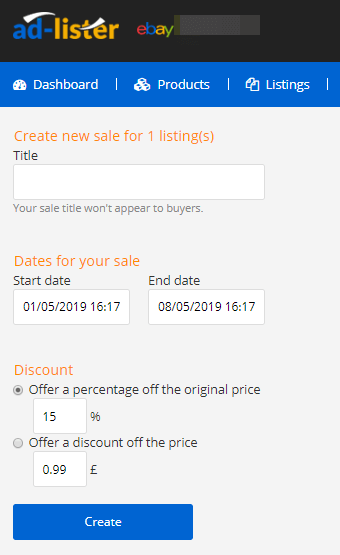 You can also have other types of promotions. Simply go to eBay, create the promotions, then log into Ad-Lister, go to Settings -> Promotions and click the Retrieve from eBay button to bring them into Ad-Lister.
Once brought in, you can simply assign products to the newly imported promotion.
For any other additional information about this extension, feel free to give us a call at 0121 285 1052.
Should I even consider creating promotions?
Absolutely! Promotions are one of, if not, the best way of attracting customers and making them buy more products from your store. It's a win-win situation!