Customers love promotions, and what better way of creating promotions for your products other than directly from Ad-lister!
Simply go to Listings tab, select the product you'd like to create a promotion on and go to the  Actions drop down and choose  Create Promotional Sale. This will take you to a new page where you can name the promotion, set the dates in between which it will be active and also the discount from the product/s, either by a percentage (%) or by a defined amount of price (£).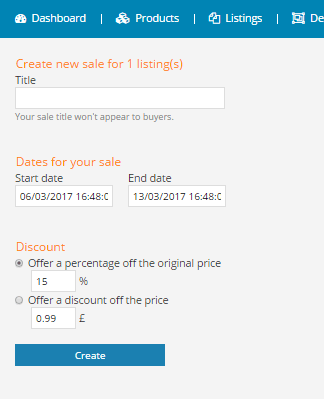 You can also have other types of promotions. Simply go on eBay and create the promotions there, then log into Ad-lister, go to Settings -> Promotions and click Retrieve from eBay button to bring them in.
Once brought in, you can simply assign it to products the same way as described above.
For any other additional information about this extension, feel free to give us a call at 0121 285 1052.