Can I update my products by using a .CSV spreadsheet?
Yes! This is by far the fastest way of managing your products and updating them.
What can I change about my products if I were to use a .CSV spreadsheet?
Anything from the title, to the price, quantity, shipping options, item specifics – absolutely everything can be updated/adjusted from a simple .csv spreadsheet import.
How should the spreadsheet look like?
Simply go to your Products page, tick the product(s) that you want to adjust, then go to the "product actions" drop-down menu, and click Download, as such: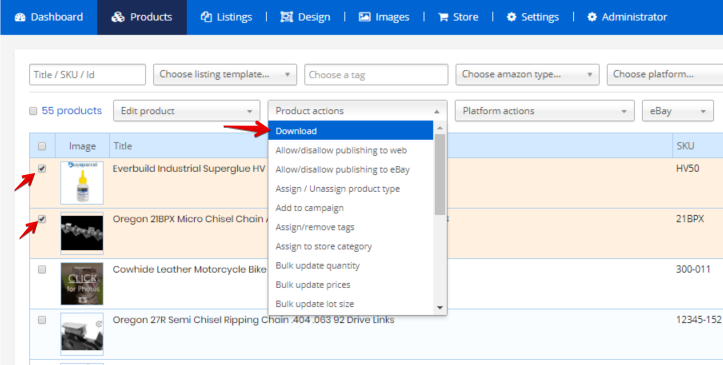 Now simply choose what you would like to download (i.e. Title, Shipping options, etc.), and click Export, as such: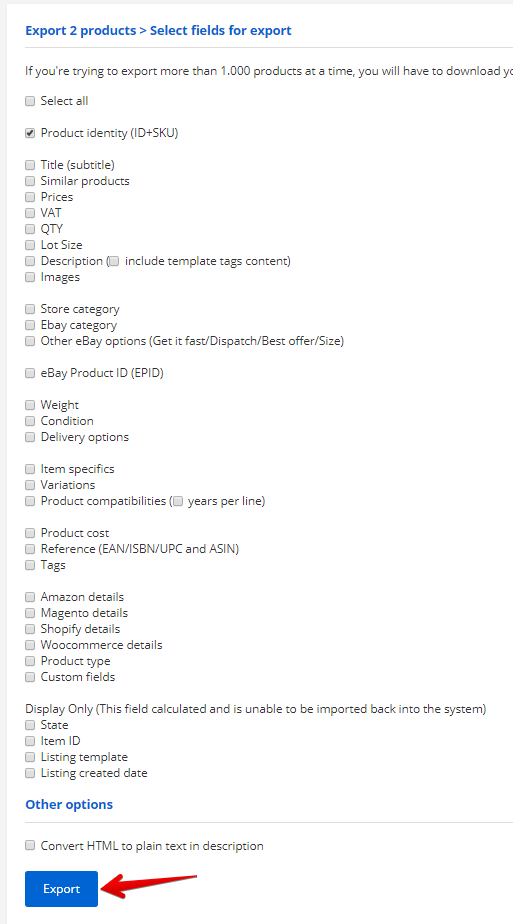 In case your are still encountering difficulties, you can download an example .csv spreadsheet by clicking here. Please make sure to not change the column names in the spreadsheet.
I have my .csv spreadsheet, how do I upload into into Ad-Lister in order to update my product(s)?
1) Once you have your new .csv spreadsheet ready, hover over the Products tab and click on Product upload.
2) Choose your file and upload it.
3) Make sure you select "Update existing inventory" rather than "Import new inventory", then simply click on "Update Inventory", as shown here:

Your products have been updated! Do not forget to revise them in order to display the changes on eBay.