eBay active content rescue package now available from Ad-Lister!
eBay active content rescue package now available from Ad-Lister!
We have taken the pain away from eBay sellers whose eBay listings contain active content. Ad-Lister offers a template builder that is Active Content-free, so that with just one import of your live listings into Ad-Lister . It's that simple!
eBay's changes that came into effect in June 2017  worsened the performance of listings that have active content – this means that if you have active content in your eBay listings, they will be removed from eBay and you will not be able to list the item again until you have removed the active content. This new rule will apply to all listing types including 'Good Till Cancelled'.  If eBay removes such items, this will seriously affect the sales history of the products you currently have listed and performing well.
First of all, you might be asking yourself, 'what is Active Content, and do I have it?' Well, if your eBay listings contain anything other than just text, then chances are you have active content as eBay previously allowed this for many years.
'Active Content' is a broad term that covers any type of non-standard text that can be included in item descriptions to provide additional functionality found on custom designs and widgets. Examples of 'Active Content' include Widgets, JavaScript, Flash, plug-ins, and form actions which can be used to create features such as cross-promotion modules, dynamic menus, or video players.
Our rescue package allows your live eBay items to be imported into Ad-Lister, 'the eBay listing tool', and then have them revised in bulk using the brand new, 'Active Content-free template builder' that will give your listings a nice, professional-looking design, whilst also being fully compliant with eBay's upcoming policies.
To test our new, easy-to-use template builder within Ad-Lister, just sign up for a FREE 14-day trial and create your own listing design in no-time. Then, in just a few clicks, you can apply the new design to your live eBay listings and start focusing on selling more, as you will no longer have eBay's active content rules to worry about.
The free trial allows up to 100 items to be imported using the standard import routine and then have them revised in bulk (we can also build custom imports on request for a small additional charge). If you want to keep using your Active Content-free listing design after the 14-day trial period has ended, you can easily subscribe for a full Ad-Lister license, starting from just £10 + VAT / month.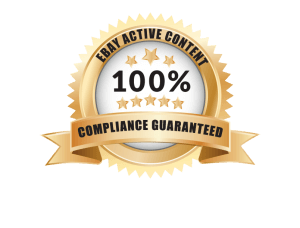 Alternatively, if you prefer a more customised design than what the template builder offers, you can always opt for a fully custom-made listing design, built from scratch based on your needs and preferences. Thanks to the way the listing designs are coded into Ad-Lister, our custom designs are also eBay active content-free.
If you have any questions or need more information about eBay 'Active Content' – what it means and how it can be dealt with – please give our free technical support team a call on 0121 285 1052, Monday to Friday, 9am – 5pm UK time.