The Ad-Lister Mobile App
Ad-Lister has been helping online sellers list their products since 2006. It all started with a question– how can we make it easier to sell on eBay? After months of tedious work, the end result came to being: Ad-Lister.
Since then, we've worked on improving our listing software, by adding new features, new platform integrations and more. Now, as some of our users might know, we have a mobile app – for Android and iOS devices. This app allows you to manage your products on eBay directly from your mobile phone.
The Ad-Lister mobile app allows you to add, edit and manage your products in bulk with only a few taps! If you're an existing Ad-Lister user, then you know how useful our listing tool really is – now imagine how useful it can be when you're on the go and don't have a PC/Laptop with you.
You can download the Ad-Lister app by simply going to the App Store/Google Play Store. To link the app to your Ad-Lister account, all you have to do is to scan the QR code that can be found in the Application Settings section of the desktop version of Ad-Lister – we're also glad to let you know that the App is FREE to download as long as you have an active Ad-Lister license.
How can the Ad-Lister Mobile App make your job easier?
Just point and take product pictures
You can take pictures of products using the mobile app an assign them to new listings – saving you from all the hassle of transferring the pictures over to your PC and then uploading them into Ad-Lister. Or, for example, if you're in your warehouse and you receive a new batch of products that you want to list on eBay, you can simply create the products while you're in the warehouse and simultaneously take pictures of them using the Ad-Lister mobile app – this way you can upload new listings to eBay in no time!
Scan and list
We've also added a feature that allows you to bypass most of the steps when creating a new product – you can now scan the EAN numbers of your products using the Ad-Lister mobile app and if those EAN numbers are found in the eBay products catalogue, it will automatically populate the fields required to list the item on eBay. All you have to do is change the title and SKU of the product, add your own pricing and shipping options – and presto! You have a new listing ready on eBay!
When you scan an EAN number, the app will try to find a product that is already registered in the eBay catalogue, and if it finds a suitable item, it will pull the Item Specifics, Description and other details directly from that listing. This mainly depends on how well the eBay catalogue is populated with EAN numbers and products associated with them.
Push Notifications
Have you ever left your computer while a job was running on Ad-Lister? Or you had to ask someone to keep an eye on a job that was running on your account?
With the Ad-Lister mobile app, you don't have to worry about having to get someone to keep an eye on currently running jobs, because you get notifications as the jobs progress and eventually finish. By turning on push notifications within the app, you will always be notified about what jobs are running or have been started/ended on your Ad-Lister account. This is useful when you are managing employees that are running multiple jobs on your Ad-Lister account and you're out of the office.  This feature also comes in handy when you have to run multiple jobs one after the other – the push notifications will let you know once one is done, so you can start the other job directly from the mobile app.
Same functionality for eBay as on the desktop app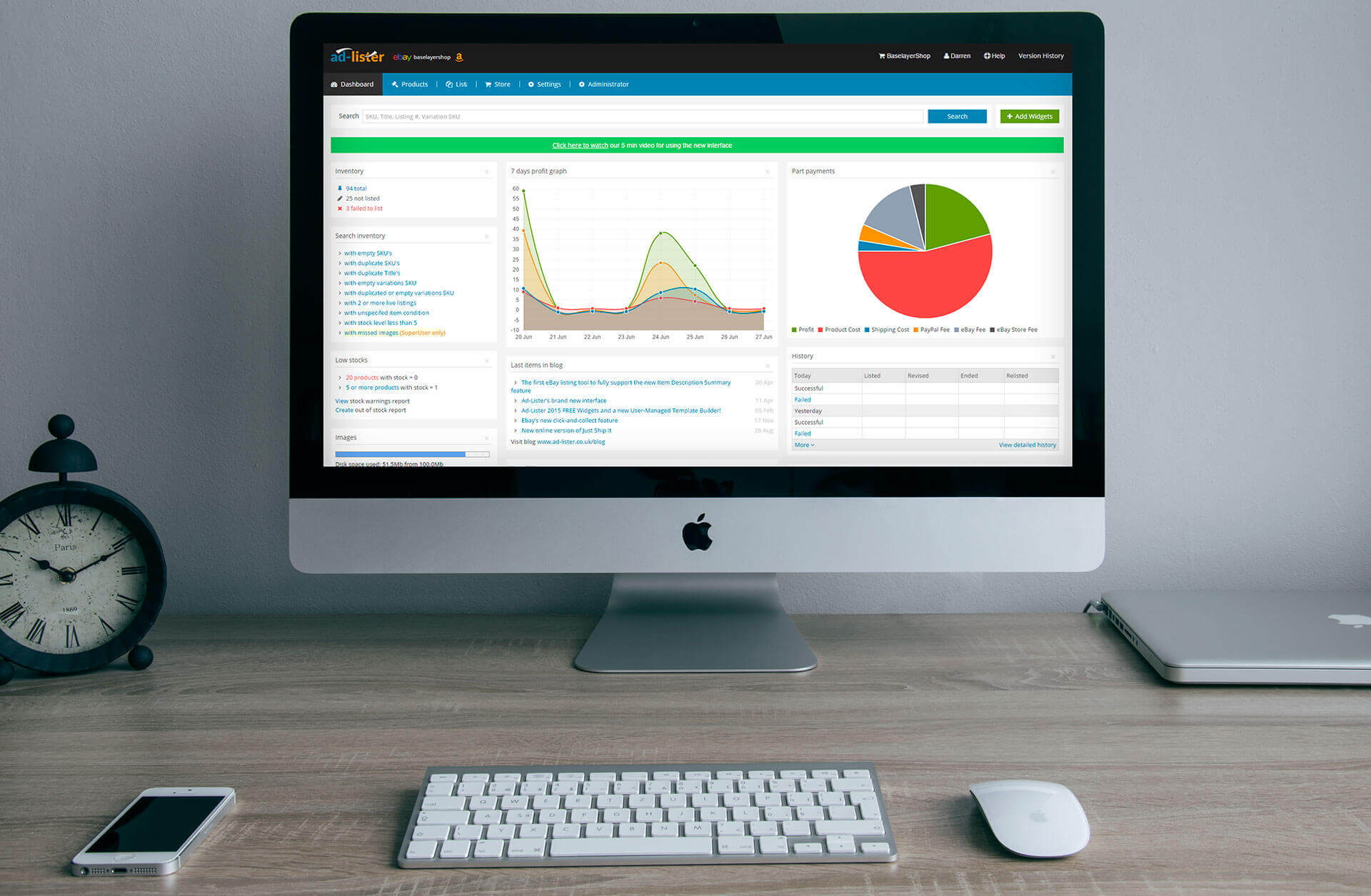 The Ad-Lister mobile app does not make any compromise when it comes to managing your eBay store. We've preserved the same basic functions that you can find on the desktop app, meaning that you can create/list/relist products on eBay with ease. We've also preserved the bulk editing/listing functionality – allowing you to make changes to your listings in no time. The app also allows you to edit Item Specifics and Variations (using a custom variation builder) – allowing you to edit more on the go.
Summary
The Ad-Lister mobile app can greatly increase your overall productivity with its time-saving features. Multi-channel functionality will be added in the future, meaning that you will be able to list on Amazon, Magento, Shopify and more when you are on the go. If you encounter any difficulties, or if you need any assistance with the app, we'll be more than happy to help you out. Our support team is always here to help, Monday to Friday, from 9 to 5 – you can call us on 0121 285 1052.