From a broken laser pen to a multibillion-dollar business – the story of eBay
Where did it all begin?
From a broken laser pen to the e-commerce corporation that eBay is today, the story behind the creation and evolution of one of the world's biggest online selling platforms is somewhat close to a movie.
eBay is a multibillion-dollar business with operations in about 30 countries, as of 2011, but how did it all start? Well… eBay was founded by French-born Iranian-American computer programmer Pierre Omidyar in the autumn of 1995, and since then has became a notable success story of the dot-com bubble. Its first name was AuctionWeb and the date was September 3 1995.
The creator of the multi-purpose website developed an auction style listing site which allowed him and others to sell basically anything anyone had to offer. He created multiple listings on his newly developed website and so, the first item sold on AuctionWeb was a broken laser pointer for $14.83. Seeing that someone was actually willing to pay for a broken item, Omidyar contacted the winning bidder, a Canadian by the name of Mark Fraser, to ask if he understood that the laser pointer was broken. In his responding email, the buyer explained: "I'm a collector of broken laser pointers". The rest is history, as one might say.
Success was almost immediate, as the company saw over 7.2 million dollars worth of sales within the first two years of business. One of the most successful things about eBay today is their feedback system. Thought up by the original founder, Omidyar, he added the system in 1996, when eBay sales were constant, to make sure that registered members got a fair deal and to give others in the eBay community information on which sellers to trust and which to avoid. The eBay name started being used in 1997, over two decades ago.
In 1998, Pierre and his co-founder, Jeff Skoll, brought in Meg Whitman to sustain the company's success. Meg had studied at the Harvard Business School and had learned the importance of branding at companies such as Hasbro. Meg culled her senior staff from companies such as Pepsico and Disney, created an experienced management team with an average of 20 years of business experience and built a strong vision for eBay, which became a platform in the business of connecting people, not simply selling them things.
eBay has built an online person-to-person trading community on the Internet, in which buyers and sellers are brought together in a manner where sellers are permitted to list items for sale, buyers to bid on items of interest and all eBay users to browse through listed items in a fully automated way. The items are arranged by topics, where each type of auction has its own category.
eBay has both streamlined and globalized traditional person-to-person trading with their web interface, which has been conducted through such forms as garage sales, collectibles shows, flea markets and more. This facilitates easy exploration for buyers and enables the sellers to immediately list an item for sale within minutes of registering.
The business model is simple and effective and has been like this ever since the website was created. Browsing and bidding on auctions is free of charge, but sellers are charged in two ways:
When an item is listed on eBay a nonrefundable Insertion Fee is charged, which ranges between 30 cents and $3.30, depending on the seller's opening bid on the item.
A fee is charged for additional listing options to promote the item, such as highlighted or bold listing.
A Final Value (final sale price) fee is charged at the end of the seller's auction. This fee generally ranges from 1.25% to 5% of the final sale price.
eBay notifies the buyer and seller via e-mail at the end of the auction if a bid exceeds the seller's minimum price, and the seller and buyer finish the transaction independently of eBay. The binding contract of the auction is between the winning bidder and the seller only. Pretty simple, right?
In the year 2000, eBay University was founded, an online institution that focused on helping new sellers find their footing in the global marketplace. Meanwhile, eBay was expanding rapidly and also started developing side companies such as Half.com.
Also in that same year (November, 2000) eBay allowed buyers an option to "Buy it Now," which permitted them to purchase an item immediately, appealing to the buyer's need for instant gratification. This was popular among buyers, but some sellers opted to wait out the auction. eBay also introduced eBay Stores in June of 2001, which let sellers open their own dedicated eBay store to their customers on a regular basis, emulating the rising fame of similar online e-commerce solutions.
eBay also acquired The Expert Maker, a virtual reality and cutting-edge technology firm, which promised to take eBay even further into the area of invention with its virtual shopping experience. It remains to be seen how popular this will be with customers, but some are quite taken by it.
In conclusion, eBay is one of those perfect examples of a company that seemed to hit on exactly what people wanted. Starting with that first crooked, used laser pointer, to that famous $46,000 pair of Levi's Jeans, there is basically no limit to what eBay users can buy or sell on its online marketplace.
Ad-Lister and eBay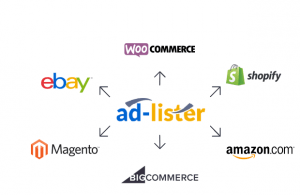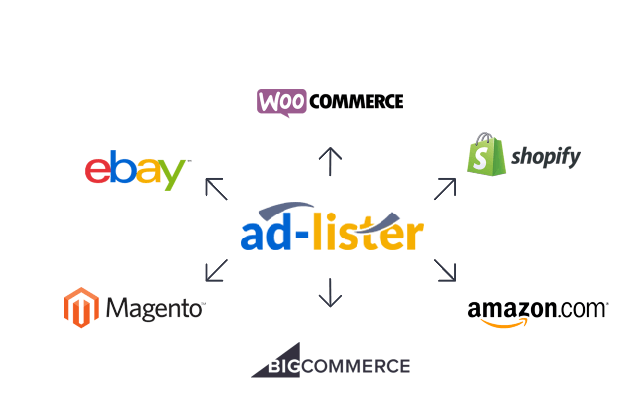 The development of eBay throughout the years has created space for other online market places, such as Amazon, Woo Commerce, Etsy and many others and it also created new jobs for people who focused solely on online platform sales.
Ad-Lister has integrated all of them, thus allowing registered users to manage their products and then upload them to multiple sales channels when ready.
eBay integration is a major part of Ad-Lister as a whole, and for users on the go, we have a mobile app that allows sellers to quickly add eBay products using a barcode scanner that will use eBay's Catalogue to automatically fill out their product details. Scan the product's barcode and let Ad-Lister take care of the rest – using the eBay Catalogue, our listing tool will auto-fill the fields required by eBay to list the item.
To find out more about how Ad-Lister can help you list your items on eBay, please visit the following link.