Selling jewellery & watches online will bring you more profit
eBay and Amazon, two of the biggest online sales platforms in the world, have reduced their fees for selling jewellery and watches. What does this mean for you? You will make more profit by selling more items from that category on both channels.
Reduced fees for Home, Furniture & DIY and Jewellery & Watches Categories on eBay
In a recent press release, eBay representatives informed their users that "We want to make sure eBay continues to provide the best possible marketplace for both you and your buyers. We've identified some categories where we have more demand than ever before, so to help you meet buyer needs in these fast growing categories, we're making some changes to our fees and caps".
Starting from July the 11th, the reduction on final value fees and fee caps in Home, Furniture & DIY and Jewellery & Watches categories for UK business sellers will be officially introduced. Any sales for new, relisted or renewed listings from the 11th of July will benefit from this change. eBay sellers based in the UK will start to see changes in their invoice from mid-July.
Amazon has joined the game with fee reductions of their own
Amazon hasn't wasted time and decided to significantly reduce the cost of selling Jewellery and Watches priced over €250/£225, by introducing their new Referral Fees for the Jewellery & Watches category.
Why that specific price range, you ask? Well, the new referral fee calculation changes from a flat 15% in UK, Germany, France, Italy, and Spain, to 15% on the portion of the price up to €250/£225 and 5% above. For example, this means a 50% reduction in Amazon referral fees for a €1,000 watch sold in Germany and a 61% reduction for a £700 Jewellery item sold in the UK.
This way, sellers of high-end jewellery and watches will benefit directly and obtain more profit, while the updates will bring no changes for low-value items sold on Amazon in that category. Amazon believes that this change could attract more competition on the platform as sellers list items for which they weren't willing to give up a 15%/20% margin on previously. Buyers will also benefit from this change by enabling Selling Partners to list a wider range of competitively priced Jewellery and Watches.
An additional way to save money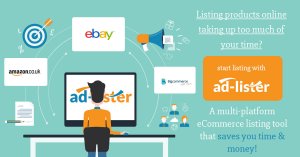 You can go on and focus on selling high-end jewellery and watches in both marketplaces and have your accounts managed in one place, with Ad-Lister.
You can save more money and time by using Ad-Lister, a powerful listing, and product management tool. It allows you to quickly list your products across multiple platforms- saving you valuable time. 
If you would like to Try Ad-Lister, please give us a call on +44(0)121 285 1052 or contact us via email at contact@ad-lister.co.uk .