How product type works (basics)
We recently implemented a new feature in Ad-lister to facilitate not only creating new products, but also to bulk amend/assign options to your inventory items. 
This new option can be found on the left-hand side navigation menu, under the "Inventory" section: Product types
This is an easy-to-use page as it is built similar to your product editing/creation page however you may use it to create product defaults/product templates.
You can create as many templates as you wish, and you may fill in all the options, or only the options you need.
For example, you can create one shipping template, only filling in the shipping details, you can create another with default categories, qty's, and prices, another for international shipping, and so on. You can build them as per your needs:
1. Add new product type:


In this particular case, we are using a simple type of delivery – fixed (one delivery service set for all products) but you can create a different template to setup shipping by weight and/or price.
2. Once the template is saved you can use it to create new products:


3. Applying product type to existing products.
We created a new product, without any delivery options, just specified the title and the qty:
In order to assign the product template (product type) you need to simply select one or more products within the "all items" page, then click the "ACTION" button on top of the grid and from the drop-down select "assign product type".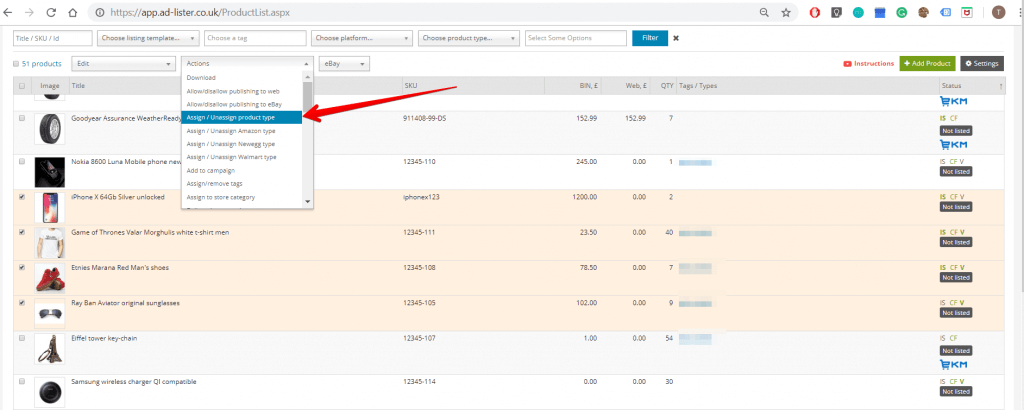 Once the product type is selected you can choose to apply its options to your selected product(s).
You can apply product defaults (categories, qty's, prices etc) or the shipping options or both if needed.
4. Once you have your product types created and assigned to your inventory items, it's very easy to make amendments to your products by bulk.
 
You will simply need to go in the product type page, edit it and amend an option, or add a new one.
Once you're done, you simply save it and update all the items related to that specific product type.