List on Etsy using Ad-Lister – easily expand your online business
Handmade and custom products have always been sought after by buyers all over the world, often they had to search all over the internet to find the products they wanted.
Luckily for them, in 2005, a couple of software developers saw the opportunity in this niche and they've created a platform for special bespoke and handmade products called Etsy. Since then Etsy has grown to become the largest eCommerce platform when it comes to handmade items, with millions of shoppers browsing the platform each day.
Today, Etsy is the eCommerce platform where everyone goes to buy and sell artistic goods, craft supplies, and vintage items that are hard to find in traditional online marketplaces. Buyers on Etsy browse their marketplace to buy handcrafted products, rather than mass-produced goods.
It's also an outlet for small business owners such as art shops and people with artistic skills to showcase their goods and sell to a wider audience without needing their own websites – such as a WooCommerce website or Shopify. It basically combines the excitement of an art fair with a marketplace like eBay.
Pros and cons of selling on Etsy
Here are a couple of pros starting an Etsy store:
Pros:
You can market your products to a large audience – with over 35 million active buyers looking for specific hand-made items, you already have a built-in audience that's looking for your products. Listing your products on Etsy will allow you to potentially get sales from organic search traffic on the Etsy homepage, which can complement your marketing efforts.
It has built-in analytics – business owners should always make decisions using data, and Etsy does a great job at providing sellers with different metrics. The dashboard shows stats about the shop, such as page traffic, the number of favorites, visits, orders, and revenue for each item in the shop.
It's easy to set up and maintain a store – you can open an Etsy store in minutes, and even better, it's free to open a basic shop. While premium features are available for an additional charge, but they are not necessary when it comes to getting started.
Cons:
You can only sell handmade items – Etsy's marketplace includes craft supplies, handmade items and vintage goods. You must fit into one of these categories in order to sell on Etsy. In addition, according to Etsy's reselling policy, you can only reset items in the craft supplies or vintage categories. You are not allowed to sell repackaged commercial items or other's handmade items that you didn't design or make.
Listing and transaction Fees – Etsy charges $0.20 to list an item and takes five percent of your sale (including shipping and wrapping fees) as a transaction fee. In addition, if you choose to use Etsy payments, which allows customers to pay by credit card, you'll be charged an additional fee of three percent plus $0.25.
The market could be saturated – There are over 4.3 million sellers on Etsy and that number is projected to keep growing. Unless you sell extremely unique items, you'll be competing with thousands of others selling similar products.
Setting up your Etsy shop
Setting up an Etsy shop is quite simple, you have to set up some basic shop preferences such as the default language, which is the language you will be describing your items –after opening the shop, you can choose to translate the page into other languages, then you will be asked to set your home country and currency in which you will be listing your items with.
If you want to see our complete guide, click on this link.
Connect Etsy with Ad-Lister
Connecting your Etsy store with Ad-Lister is easier than you might think. All you need is an Ad-Lister account and an Etsy store that is already set up.
After logging into Ad-Lister, you will have to go to the Platforms page and click on the Add Platform button and then select Etsy:

Once you have Selected Etsy, you will have to add the shop name and then click on Add Etsy store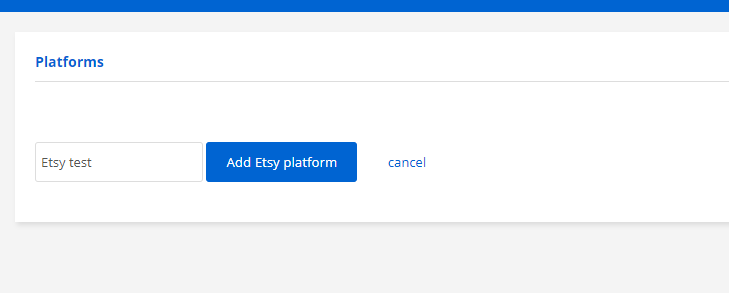 On the left side of the screen, you will see some easy to follow instructions such as:
In the Name section, enter the Display Name of your store – this is how the platform will be called in Ad-Lister.
In the Shop Name section insert the shop name that is registered on Etsy.
Click on "Get new Token Credentials" and then click on "Authorize the request".
This will redirect you to Etsy, where you will have to click on "Allow Access" to authorize Ad-Lister.
After authorizing Ad-Lister, you will receive a verification code. Please type this code into the "Type in your verification Token" field and click on "Obtain Token Credentials".
List on Etsy using Ad-Lister
Once you're done with setting up the platform, you can simply just go back on to your products page and start editing the products that you already have in Ad-Lister. You will have to add the Etsy category for your products, the desired quantity of items you want to list, and a special price for the platform. You can also add the Delivery policy, the year it was manufactured in and who made it.
After adding the Etsy details you can list the product on to your Etsy store simply by ticking the box in front of the product and clicking on Post to Etsy. Here you select the product details you would like to post and click on Post. Voila! After a couple of seconds or so, your product should be on your Etsy Store!
Final thoughts
If you have the right products, selling on Etsy can be a very profitable business – some sellers even report 6 digit sales each month!
Setting up the products can be quite a task, that's why we've added the ability to list on Etsy. This way sellers can save time when setting up new products or managing existing ones.