Ad-Lister's brand new interface
Together with the launch of our new website, we are also proud to announce the release of Ad-Lister's shiny new interface, which will make listing on eBay easier than ever. 
Eight years after the emergence of Ad-Lister's first version, we have decided to go through a major re-branding process that included building a brand new website to showcase the features of our very own eBay listing tool, and of course, a total revamp of its interface. Ever since Ad-Lister's inception, our listing tool eliminated the need for customers to edit or copy and paste HTML code in order to make their listing descriptions look attractive.
With the help of customer feedback over the years, we have worked actively to improve the look and feel of our listing software and strived to make it easy to use, while also making sure that it was complying with eBay's ever-changing policies.
Ad-Lister's new dashboard is made up of fully customisable widgets that can provide you with useful information such as your listings' state and history, your subscriptions' statuses, your eBay profit and loss, or information regarding products that are low on stock.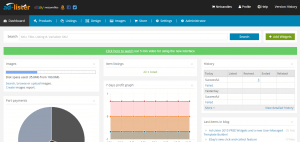 On our new interface, each of the Products and Listings sections can be customised for your own needs, as you can easily add the columns and filters that you need on the page, and remove the ones that you don't really use, therefore making your screen a lot less cluttered.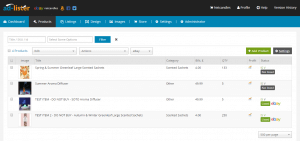 You can also change quantities, prices or postage options for all your products in bulk in just a few clicks. So, for example, when Royal Mail decide to change their prices, you can increase your postage fees or product prices by 5% across the board and then click to revise your listings on eBay. It's really easy to do and it takes no more than a minute.
Check out a short video of how Ad-Lister's new interface works right here:
In addition, our software is 100% mobile responsive, which means that you won't have to download a separate app in order to use Ad-Lister on your smartphone or tablet. You'll just have to load up the usual app on your mobile device and you're ready to go. Not to mention we also have a support team ready to help you on weekdays from 9 AM to 5 PM in case you have any issues, and all of it is free of charge.
So if it takes you too long to post your products on eBay manually, or if you're using eBay's "Sell Your Item" form, TurboLister or any other listing tool, and you've had enough of it, you might want to give Ad-Lister a try, and we'll promise you won't regret it. 
Go to our website's homepage and sign up for a free 7-day trial of Ad-Lister now!