The first eBay listing tool to fully support the new Item Description Summary feature
Ad-Lister's new interface comes with many tweaks and improvements, and one of them is the full support for eBay's new Item Description Summaries, that will come about in July 2016. Ad-Lister has managed to get a head start on other third-party apps and is the first eBay listing tool to support this feature, thanks to its clever new interface.
So what are item description summaries, you're wondering? Well, item description summaries will basically complement your current eBay product descriptions and will only display on eBay's mobile site and app, starting July 2016.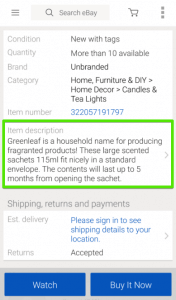 With Ad-Lister, you will be able to generate these summaries based on the actual descriptions that you've added to your listings, by using the "Smart Trim and Copy from Description" feature, or you can easily type in your description summaries manually, without the need of any HTML knowledge. There will also be a character counter, so your summaries will be limited to 800 characters.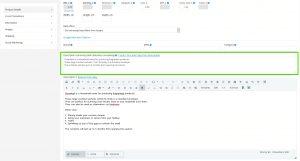 Basically, item description summaries will contain the relevant information for buyers who browse through eBay using their mobile devices, while it will also help surface your listings in search engines.
Once eBay makes this feature live, all you'll need to do is set up your description summaries in Ad-Lister, and then do a one-click bulk revision in order to send your changes to eBay.
If you have many products, you can make full use of the new "Smart Trim and Copy from Description" feature in Ad-Lister that will automatically generate the description summaries for all the products, and then you can either export them to a *.csv file for tidying-up in bulk, or just edit them in Ad-Lister one by one.
If you're a new customer, Ad-Lister can import all your live eBay items so you can edit them easily in our software, and then push your changes back to eBay in just a few clicks. Easy, isn't it?
But why don't you try it out for yourself? Go to our website's homepage and sign up for a free 7-day trial of Ad-Lister now!