Things you should know before you start to sell on eBay
Are you planning on expanding your online business by selling your products on eBay? Or you'd like to start a new online business? In this modern-day and age, you can set up an online store in no time! You have all the information you need freely circulating on the internet, all it takes is a bit of your time to do the necessary research.
Established online marketplaces like Amazon, eBay, Etsy offer an excellent opportunity for you to expand your business. Each of these platforms presents their own challenges – you can check out our previous article where we've talked about expanding your business on Amazon and we've covered how you can start to sell on eBay in another article.
This article serves to answer a couple of questions you might find yourself asking before you start to sell on eBay – let's see what advice we have for promoting your business on the world's largest auction house:
The first question you might ask yourself is how much money can you earn by selling your products on eBay?
Since you have the option to list your items as auctions, you have the potential to earn much more than your typical asking price. You can get a rough estimate of how much more can you make by listing your products as auctions by searching for completed auctions and examine the winning bids. If you are currently selling on Amazon, you'll notice that eBay has lower fees, so even if you choose to list your products as fixed price listings, you can still make more money per item than on Amazon.
How can you succeed as an eBay seller?
Like in any other marketplace, your reputation matters a lot! eBay is full of success stories – and what do most of these stories have in common? A good reputation. The sellers that benefit the most, regardless of their product specialty, are those who develop their reputation and provide excellent customer service and carefully position their listings. Your store's strongest selling point is your reputation – if you are committed to strong customer communication and service, you're already on the right path!
How do you ensure that you earn well with auctions?
There are two ways to sell your items at a higher than average price when it comes to auction-style listings:
One way to be sure that you don't have to give your product away for a low bid is to set a higher starting bid. A higher starting bid creates a perceived value in your product and prevents you from having to settle for a low bid.
The other way is to set a Reserve Price – bidders can compete, but no one will win the auction unless the highest bid beats the reserve price. When bidding, the users won't be able to see the reserve price amount, however, they will get a notification saying "Reserve Has not been met" until the reserve has been surpassed.
Another question you might find yourself asking is how can you get more bids on your eBay items?
If you want to apply the techniques mentioned above, you will have few bidders on the items because they tend to favor low bid listings. The only way you can get more bids on the items is if you list them for longer periods of time and you can add a Buy it Now price instead of a reserve price.
How do you make your listings look apart from the competitors?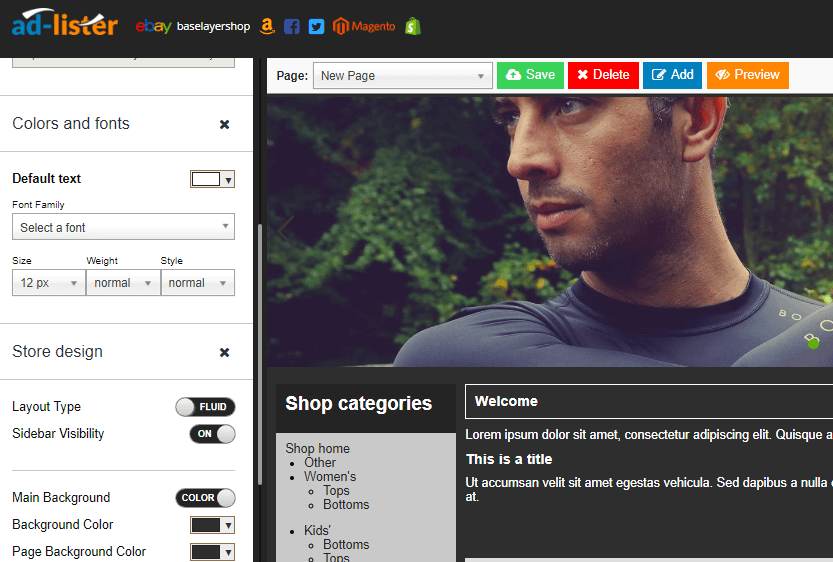 Like with any other eCommerce sites, detailed images and well-written product descriptions can make your products stand out compared to similar offerings. Keep in mind that the more information you offer about your products, the higher they will rank in eBay's search engine. A listing design can offer a huge visual impact on the shoppers, it can offer additional buyer-confidence that might encourage shoppers to buy from your store. It can also help with your branding, offering a unique design to all of your products –making them easily distinguishable from your competitors.
Talking about reputation, how can you earn more reviews and higher ratings?
The best way to earn more positive reviews and higher seller ratings is to stay in contact with your customers throughout the sales process. Simple things like messaging them as soon as their products have been shipped can go a long way. And once the product has been delivered, check up on them to see if they are satisfied with the product and if you can offer any assistance. Respond to all questions and complaints promptly, particularly if a buyer requests a refund.
We hope that we've managed to answer a couple of your questions regarding how to sell on eBay and we hope that you can use this information to start up your own store one day. If you have more questions about the best ways to sell your products on eBay, or you have more advice to share, be sure to leave us a message.