How to start selling on eBay – Beginners guide, quick start tips and tricks on selling on eBay
A brief history
eBay has come a long way since its humble beginnings, the platform started off as a part of a personal website back in 1995. It was founded by Pierre Omidyar ( a French-born Iranian-American computer programmer) who never thought that people would start selling on it and make it the eCommerce giant which it is today.
The first item ever sold on eBay (AuctionWeb – as it was first called ) was a broken laser pointer which sold for $14.38 – Omidyar was so astonished by the sale, that he even contacted the buyer and asked him if he understood that the laser pointer was broken – luckily for him, the buyer was a broken laser pointer collector.
Today, eBay is one of the largest online marketplaces out there – with well over 150 million users buying and selling items each day. It offers a wide variety of items, you can find anything from stamps to motor vehicles, antique treasures and baby pampers, if you can think of it, eBay probably has it listed.
So why not start selling on eBay today?
Whether you're looking to quit your full-time job and start your own company, or you would like some extra income that would allow you to buy that car that you've been dreaming about – eBay is the place to be!
You can start selling on eBay without almost any upfront investment or inventory – you just need a laptop and an Internet connection.
Here are a few things that you need to know before you start selling on eBay:
It is always wise to do some research before jumping into anything, so here's a short rundown of things that you need to know before you start selling on eBay:
You need to follow some guidelines:
What makes users buy from eBay? – a set of rules that it imposes on sellers and the severe punishment for those who don't play by their rules. This creates a trustworthy marketplace where the buyer has a guarantee that the seller will deliver the goods as promised.
By following the rules and delivering on time, you can quickly rise to be a reputable seller and see an increase in business.
Prohibited Items
Contrary to popular belief, eBay isn't the Wild West of eCommerce, meaning that there are some items which you can't sell on eBay such as:
Firearms
Alcohol
Food
Tobacco
This is why we would recommend reading eBay's prohibited item list and the list of items couriers can't deliver – before you start selling.
JavaScript, HTTPS and external links
The no Active Content policy has been active for some time now. It's eBay's response to sellers customizing their listings to an extent where it changed how the site and its features were working.
JavaScript – referred by eBay as Active content – includes scrolling item pickers, embedded feedback, social media sharing icons, and currency conversion widgets.
eBay won't completely show your listings unless they are compliant with the new security rules. This means that if you want your listings to be displayed correctly, the image links and the CSS of your template design have to be HTTPS compliant.
The no external links policy was introduced by eBay to offer the customers a safer user experience. Removing the links from the listings is eBay's way of protecting customers from malicious sites and spam.
eBay Fees
Like any business, eBay has to make some money to keep itself running – here is where the fees come in to play. The fees depend on a couple of variables such as account types, the number of items you list per month, and how much your items sell for.
There are two main types of selling fees on eBay: insertion fees and a final value fee when you sell the item.
When an item gets listed, eBay charges the seller a fee per listing, per category – this is called an insertion fee.
You can have up to 50 or more Zero insertion fee listings, depending on the eBay store. You have to keep in mind that selling limits apply and certain categories are excluded from the Zero insertion fee listing offer.  You also have to list in the country that you are registered with to be able to use the Zero insertion fee listings.
Final Value fees are applied when you relist or sell an item. The final value fees are calculated as a percentage of the total amount the buyer pays, this includes shipping and handling (sales tax isn't included).
Setting up an eBay account
Setting up an eBay account is easier than ever – all you have to do is go to the eBay sign-in page and click on the tab where it says "Create an account". After filling out the boxes with your name, email address, and password you will be able to click on Register.
You can also sign up on eBay using your Facebook or Google account, which involves letting eBay access your public profile and email address.
Before you can start buying/selling on eBay, you will have to verify the account.
Once you have set up the account, you can register for a business account if needed – this is useful if you want more than just to sell items you no longer want. If you want to sell in large quantities or if you have items that you have made/bought for resale, a business account is what you should opt for.
Listing your first item
Once you have signed up for an eBay account, you can start selling your products on eBay… the question is what would you like to sell?
Product and Market research
To find the answer, you need to do some product research – you need to find a niche where you can add value and make your products sell. The best way for a small or medium-sized business to succeed in eCommerce is by specializing in a niche. Try choosing an area where you have the expertise and can offer customers true added value.
Once you have found the product that you would like to start selling, you will need to do a bit of market research, to see how the competitors price the same/similar items that you have decided to sell. Pricing research is the most fundamental kind of research, it has to be on top of your "To-do list" before you start selling.
For larger sellers, pricing research can be rather time-consuming – it's good to know how the prices vary by season, day of the week, and time of the day, also by product condition and options.  Without the proper pricing research, the sellers can either register no sales or sell products way under the market value, lowering their profits.
After you've found the product and have a rough idea on the pricing, the next thing would be to see what the competitors are up to. Competitor research is important in order for you to get a rough understanding of who you will be competing with for the sales, what advantages and disadvantages do these competitors have.
This is the first step in getting your items in front of the buyers.
On the top part of the screen, you have to click on Sell 
After that, you will be redirected to a screen where eBay will ask you for an EAN, EPID, part number or product name. Once you have filled out the field with the Title, for example, eBay will suggest some items that are already in the eBay catalog and it will allow you to use the information contained within the products to create your own product – this is how eBay tries to speed up the listing process.
Title
Buyers usually find listings by their titles, so be sure to include keywords that possible customers would use to search for your listings.
Description
Another important part of the listing is the Description – try writing a description that is creative and descriptive enough to sell your product, also be sure to include unique qualities and potential flaws.
Item specifics
Either if you decide to select a pre-existing product or create one from scratch, you will have to be sure to give as much information about the product as you can. The more details, the better – try adding as many details in the item specifics as possible.
Images
The next step would be uploading some product images – the images have to be at least 500px on the longest side, so try uploading high-resolution images to give your customers a better shopping experience.
Listing Type
Once you have added all of the above, you will have to choose the listing format. Understanding all the different types of auction and fixed price listing formats and the pricing options will help you become a more efficient seller.
Payment information,
You can choose to accept different payment methods from buyers, but it is recommended to use PayPal because it is easy to use for both the buyer and the seller, and it is the safest and most efficient way to get paid on eBay.
 Shipping and Returns policies
Be sure to specify your ship-to locations and the shipping services that you offer. Also, don't forget to specify the handling time – this is based on the amount of time it takes you to ship the item after receiving payment for it. This will help buyers understand when they can expect the package to arrive.
Equally important is the Returns policy, buyers are more comfortable shopping from someone who offers returns and has a clear returns policy. If you don't accept returns, then please be sure to specify this in the listing, because by not selecting a returns policy, eBay will automatically select a default returns policy for you.
Once you are done adding the key details to your listing, you will have to review the listing again, just to be sure that you have entered the correct information and assigned the right policies. Once you are done reviewing the new listing, you can click on the List Item for Sale button to list the item on eBay.
How should you start selling on eBay?
Whether you are new to selling on eBay or you're a seasoned veteran, there is always something that could make listing easier. Ad-Lister was developed with simplicity and efficiency in mind, helping its users to list and revise items seamlessly through one well-optimized interface.
It sounds all good and simple enough, but you're probably asking yourself why should you use this tool? Isn't the eBay interface enough?
If you want to use eBay just to get rid of a few items laying around the house, then yes- the eBay interface should be enough. But if you would like to start selling on eBay to make some additional income or you would like to start up a business, then using an advanced listing tool is advised.
What extras does Ad-Lister offer compared to the eBay interface?
Create Attractive Listing Template Designs within minutes
For starters, Ad-Lister allows you to create your own listing template designs that you can apply to your listings – all this without you having to type a line of HTML code.  You can choose a design that you like from our pre-made templates and then you can use the eBay listing template builder to add a custom touch. You can change the color scheme, the fonts and even the location of certain elements thanks to our drag and drop builder. You can find out more about our listing template builder here.
Bulk list and update existing listings
Ad-Lister allows you to list and modify your products in bulk- this is a real time saver! – imagine going through hundreds of products manually… that is only a thing of the past! With Ad-Lister you can make changes in bulk with a couple of seconds!

Multi-Channel listing tool
Multi-Channel Integration – with our tool, you are not limited to selling on one platform, you can use Ad-Lister to list your products on all the major eCommerce platforms such as Amazon, Shopify, WooCommerce, Magento 1 and 2, Bigcommerce, Brightpearl, and many more!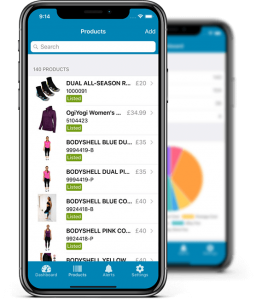 The Ad-Lister mobile App
A dedicated application that allows you to add products while you are out in the warehouse – yes, you've read it correctly, Ad-Lister has its own custom mobile app which allows you to create products and with the built-in barcode scanner it checks the eBay catalog for product information and fills out the product details automatically! Find out more about our custom mobile app here.
Supplier Data Feeds
Product Data feeds – this allows you to get stock and product updates directly from your supplier! By linking Ad-Lister with your suppliers FTP server, Ad-Lister automatically refreshes your inventory every time the supplier makes a change to the master file on their end. You can find out more about this feature here.
Ad-Lister comes with additional features which are built in the Ad-Lister interface such as the Profit and Loss Widget, Low stock warning widget and many more.
If you have any questions regarding our application, please feel free to contact us on 0121 285 1052 and we will be glad to answer your questions. You can also email us: contact@justapplications.co.uk