Quick tips for optimizing Amazon listing titles
As Amazon continues to grow despite the global pandemic, registering approximately 750.000 new sellers this year, the quality of product listings has gotten increasingly important.
Did you know that over 95% of Amazon listings aren't set up correctly? This means that thousands of businesses are listing their products on Amazon without properly optimizing them. The product title is the most important and most overlooked aspect of a product listing.
What is an Amazon listing title?
When users search for products on Amazon, the first thing they'll see are images and bolded headings that appear at the top of each product. This is the product title that gives users a description of the product to help them figure out if that product is right for them.
Basically, the Amazon product title helps the customer decide whether they should click on your product listing or continue browsing. The right product title can help drive valuable leads to your listing, but a badly structured title can lead to negative effects for your business.

Why is it necessary to have a well-optimized Amazon listing title?
Shouldn't it be good enough to just type in the title of your product and call it a day? – you might be wondering, and the answer is: No! The product title has too much of an impact on the overall performance of your listing not to be ignored.
Here are two reasons why it is essential to optimize Amazon listing titles:
Buyers lack patience
Nowadays there's a need to obtain information quickly and efficiently. Time is precious and buyers don't want to waste their time trying to figure out whether a product is right for them or not. Buyers rely on optimized product titles to learn about the product quickly and decide if they want to make a purchase or look further.
The product title should help your audience understand what it is that you are selling. These titles should be descriptive enough to help your audience know what your product is before clicking on the listing. Optimizing Amazon listing titles is an efficient way to capture leads and get them to check out more information about your product.
Amazon relies on listing titles to rank them
The title determines the relevancy of your product listing, this means that if your product's title isn't clear to your audience, you'll have difficulty attracting potential buyers to your listing.
Let's say that you are selling iPhone cases. If you create a title for your product that simply says "iPhone 11 case", you won't attract many leads. Why? Because it doesn't provide enough information to help your audience decide whether they would like to purchase your product or not.
On the other hand, a product title that says "Migeec Case Compatible for iPhone 11 – Flip Case Kickstand with Credit Card Slots for iPhone 11 6.1 inch (black)" tells the Amazon buyer much more about your product and can help Amazon with properly ranking your listing.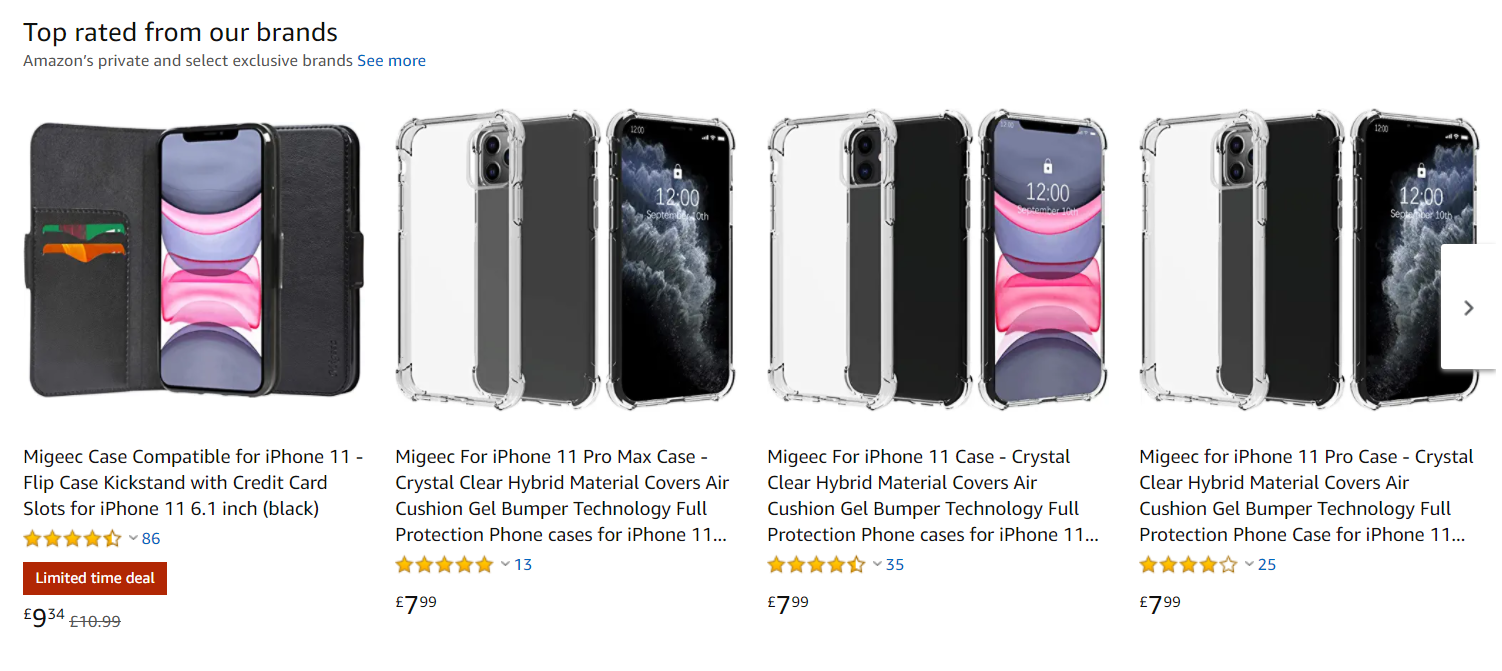 A descriptive product title provides your audience with valuable information that helps them in the decision-making process. In this instance, saying that it's a flip cover and has credit card slots can be a selling point for some and gets them to pick your listing. More relevant leads seeing your listings will result in more conversions, and more conversions will help you rank your products higher in the search results to reach more leads.
Optimizing Amazon listing titles with 5 easy steps
Now that you know why it is so important to create the right title for your Amazon listings, it's time to optimize your product titles. Here are a couple of tips that can help you:
Make your titles as descriptive as possible
It is crucial that you provide your audience with valuable and relevant information about the products that you are selling. As stated previously, your title is one of the first things your audience sees. You want to provide them with enough information to get them interested in your product. By creating a descriptive title, you will tempt leads to click on your listing.
So what type of information should you include in your listing?
It mainly depends on the Amazon category and the type of product that you are selling. Generally, you'll want to provide information about the brand, description of the product, materials, colour, size, key features, and package quantity.

Integrate keywords in your titles
Using exact phrases and keywords in the title of your Amazon listings is important to make sure to cover more than just one search request. The best phrases, keywords, and terms can easily be found by checking comparable products or just by including keywords that come to your mind. It is important to have a keyword in the title, but a useful phrase is even better.
Also, be sure to integrate the most valuable keywords at the beginning of your title.
As you integrate keywords, be sure not to overdo it, this practice is known as keyword stuffing. Keyword stuffing won't help your listings rank higher in the search results.

Focus on user intent
When you are optimizing Amazon listing titles, think about your audience. These are the people who will be clicking on your listings and purchase your products, ask yourself the question: What are they hoping to find?
Think about what information would help to inform them and lead them to choose your business's product. It's easy to think like a business owner and input information that you want to sell people on, but you must think like a buyer and consider information that matters to them.
Avoid the use of irrelevant information in your Amazon listing titles
Considering that Amazon only allows you to use 200 characters in your product titles, you don't want to waste valuable space on irrelevant terms.
It's best to avoid terms like "Best seller", "Best selling" and so on. These terms are subjective and your audience will be suspicious about why are you pushing that information in your title (especially when Amazon tags products separately with best seller badges).

It's also advised to not include promotions in your title because if you are constantly changing the listing's title it will prevent Amazon from properly ranking the listing. Not to mention that promotions don't have anything to do with how the product works or what it does.
Follow best practices
Here are the most commonly used best practices that you'll want to follow when optimizing Amazon listing titles:
Always capitalize the first letter of each word, but don't capitalize each letter
Spell out measurements such as Pound or Kilograms
All numbers should be numerals (not spelled out)
Ampersands symbols (&) should not be used in titles unless they are a part of the brand name

Final thoughts
If you would like to get the most out of your Amazon product listings, you must optimize your titles to drive more leads to your product pages.  This is why it is important to be mindful of how you order the words in your titles and you need to what out for keyword stuffing that can be an overwhelming turnoff for buyers.
When choosing a listing tool, be sure that it supports multiple title formats for each platform, so you don't have to use one title format for all of your sales channels.
You might also be interested in: