Multi-channel listing tool essentials in 2020
Selling items online can be a lucrative way to make money. Like with any business, the more streamlined and efficient the workflow is, the more you can increase sales. You can easily increase productivity and workflow by using out of the box listing tools – which can decrease the amount of time and effort it takes to list on various eCommerce platforms.
Whether you already have an established online business or you're new to selling online, you should really consider using a listing tool that ticks all your boxes.
In this post, we will take a look at the main features you have to look for when selecting an online listing tool.
Bulk Data Editing
If you sell on online marketplaces, then you're going to want to update your products with the most current information if you want to stay near the top of the search rankings. It comes to happen that often you will have to make the same exact change to multiple products.
Bulk editing allows you to update multiple products at the same time – saving you from having to go into each product and updating them one by one manually.
Ad-Lister has built-in bulk editing features that allow you to swiftly update your inventory with only a couple of clicks. You can change store categories, product descriptions prices and quantities in a couple of minutes – giving you more time to focus on other key aspects of your business.
Multi-Channel integration
Nowadays, you have a wide variety of marketplaces to choose to sell on at your fingertips. There are two giants: Amazon and eBay– which are a must if you want to keep your business booming. If you don't want to pay the extra fees involved with selling on those platforms, you can always build your own website – there are a variety of platforms to choose from WooCommerce, Magento, Shopify, Bigcommerce, etc.
If you are planning on future-proofing your initial set-up, you must take into consideration the fact that you might want to expand your business in the future – start selling on both eBay and Amazon, and a couple of other websites – in this case, a multi-channel listing tool can come in handy.
Ad-Lister allows you to list on multiple marketplaces using one simple, user-friendly interface. You only have to create the product once, and you can use our multi-channel listing tool to push the product data on to multiple platforms.
Let's say you are currently selling on eBay and you would like to try out selling on Amazon. With the post to Amazon add-on, you can simply just push your current product data (images, description, item specifics, variations, etc.) seamlessly on to Amazon.  The same would happen if you would like to post your products on your WooCommerce or Magento website, all you need is the right add-on, and your days of manually adding listings to your platforms are over.
CSV file Import/Export feature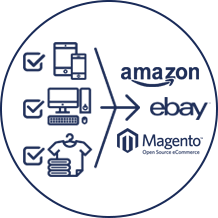 Being able to export and import data is crucial for businesses which work with a large variety of products – this feature allows users to export large data files which they can later edit and upload back into the listing software. This can also be used to create a local backup of all the products before major description/pricing updates.
Availability on multiple devices
Using a multi-channel listing tool that can do it all is great – but what do you when you're on the go? It's important for the listing tool to run on mobile devices as well so when you leave the office you can see which items have listed successfully or to see if the changes you've set have applied to the products.
Ad-Lister has its own mobile app to be sure that you can work even when you're out on the go! The app allows you to quickly post and add products just by scanning the EAN number of the items. This then checks eBay's catalog and pulls the right information from their database directly. All you have to do is add the right pricing and shipping options to be able to post the product.
Ease of use
You can have a listing tool with all the bells and whistles, but it can be still rendered useless by usability issues.  When you are searching for a multi-channel listing tool, be sure to take into consideration the ease of use. The more intuitive the interface, the more time you and your employees save – imagine wanting to navigate to a certain page and not being able to find it!
By picking and application with a gradual learning curve, you will also save time when it comes to showing new employees around the software.
Ad-Lister was built to help businesses streamline the whole listing process – whether if it's eBay, Amazon, Magento, Shopify or WooCommerce – Ad-Lister's easy to use interface will allow you to get your products online in no time. Now you might be wondering about the pricing… it's scalable! This means that you don't have to go ahead with a high tear license from the start – you can upgrade as your business grows!
You might also be interested in: