Create eBay Promoted Listings campaigns using Ad-Lister
Getting your listings in front of the right audience on eBay can be challenging. A popular marketplace for both shoppers and sellers, getting your products sold on eBay is becoming increasingly difficult for every online seller. Understanding how to advertise on eBay is the key to growing your business on the marketplace.
Luckily, there are new advertising opportunities provided by eBay to enhance the visibility of your products and boost your sales. A very cost-effective way to boost your listings is through eBay Promoted Listings, which gets your products in front of the right people at the right time.
We're thrilled to announce that the new eBay Promoted Listings advertising service is now available through Ad-Lister thanks to a new partnership with eBay. This service is now available for our customers that are eligible to use the new eBay Promoted Listings feature
What is eBay promoted listings?
eBay Promoted Listings is an advertising service provided by eBay that allows eBay sellers to get more views on their listings and increase their overall sales through promoted and enhanced listing visibility. This service is now available in Ad-Lister in two forms: Cost Per Sale advertising and Cost Per Click advertising.
These advertising services will increase your visibility on Search pages, on the View Item page, My eBay, and Browse pages together with other eBay ad locations exclusive to the Promoted Listings campaigns.
How does eBay promoted listings work?
As mentioned before, there are two main types of advertising models that you can set up using eBay Promoted Listings (both are paid services):
Cost-per-Sale Advertising
Pay-per-Sale Advertising works with fixed price listing and it is available for products in almost every category, except for Events Tickets, Property, E-Cigarettes, Vapes & Accessories, Wholesale & Job Lots, Cars, Motorcycles & Vehicles and Everything else. You can apply this to multi and single-quantity listings.
Cost-per-Sale campaigns are ideal for small to medium-sized businesses because they come without any risks of losing money on advertising, as the seller only gets charged for the advertising cost if they make a sale.
Cost-per-Click Advertising (Advanced)
Cost-per-click advertising involves more knowledge when it comes to what phrases buyers are using to find your products or products that are similar to yours. Promoted Listings Advanced – as eBay likes to call it, is available to sellers that meet certain criteria. This advertising method uses an industry-standard Cost-per-click format, making it easy to use for people that have experience in running PPC campaigns. This advertising method is ideal for large merchants that have a specialized marketing department.
Why should you start using eBay Promoted Listings?
One of the key benefits of using the new Promoted listings is that it increases the visibility of your listings and if offers you a competitive edge.  It is an advertising service that is agile and easy to use, you can switch the campaigns on and off as you wish. It is a service that benefits you in the long term, by selling more items it generates listing history that will organically boost the product position in search results and improve its overall performance.
How to get started with eBay Promoted Listings?
Promoted  Listings is available for Ad-Lister users, you will have to contact one of our support agents to activate it. Once active, you will have to navigate to Listingsà Promoted Listings
Here you will have the option to start a Cost-Per-Sale (CPS) campaign or, if you are eligible, you can start a Cost-Per-Click (CPC) advertising campaign.

Setting up a CPS campaign is quite straightforward, all you have to do is to select a default ad rate (bid percentage) and then select products based on rules. You can add products to your campaigns based on rules, using Brands, eBay Categories, item conditions, and price range.  Once you have added the items to the Campaign, all you have to do is to click the Create button.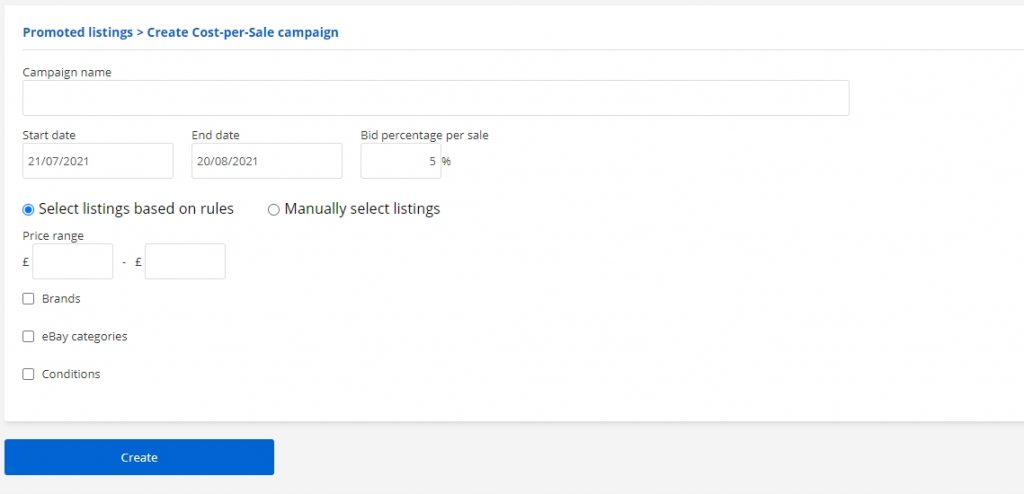 If you are eligible, then you can create an Advanced PPC campaign, where you will be prompted to add your daily budget, and then you will be able to create an Ad-Group and select the products and keywords that you would like to use. eBay does provide a set of suggested products and keywords for you to use based on their data and search algorithm. When adding the keywords you will see a bid range that is based on data we get from eBay, and you will be able to select how much you would like to bid per keyword.

Campaign performance summaries and reports are available for both types of Promoted Listings in Ad-Lister, giving you an overview of how the campaigns are performing, easing the decision-making process when it comes to marketing.
Summary
Using Promoted Listings is a great way to boost your sales, and we would recommend you giving it a go! If you need any assistance or guidance, please feel free to contact our support team!
Learn more: