What are eBay managed payments?
Intro
The checkout process can be a delicate issue for online retailers, with many shoppers dropping off just when they're about to enter their credit card details. Nowadays, due to the ever-evolving expectations of their customers, more and more eCommerce platforms are releasing their own native quick-pay options. These quick-pay options ensure a streamlined process that, in time, increases the checkout completion rate. One example of this is eBay's new Managed Payments system.
What exactly are eBay managed payments?
eBay Managed payments is the marketplace's in-house system that helps with processing payments for both buyers and sellers.
eBay launched its new payment system back in 2018, and they only invited a limited number of sellers to opt-in. Within the first 21 days, they've processed over 20 million US dollars for those sellers. Since then, they've moved more and more sellers into the program.
The marketplace previously depended on PayPal to process its payments, acquiring it back in 2002. After parting ways in 2015, eBay started looking for a PayPal alternative, and thus the eBay managed payments concept was born.
eBay's managed payment program allows the marketplace to process the payments directly without having to rely on PayPal, enabling customers to enter payment information and process payments without having to travel to a third-party site and leave the eBay interface.  This is made possible by a gradual switch over to the payment processor Adyen, which is also used by Uber and Shopify to create their payment management systems.
What are the Advantages of eBay Managed Payments?
Buyer Convenience
eBay now offers multiple payment options to meet modern customer expectations and increase eBay sales. Credit cards, debit cards, gift cards, Google Pay, Apple Pay, PayPal, and PayPal Credit are all accepted. This means that PayPal will become an option, rather than a requirement.
Mobile Payment options
Mobile friendly options with eBay managed payments will make a huge difference for buyers and sellers alike. Worldwide, over 43% of eCommerce sales are expected to take place on mobile devices this year, so it's a timely improvement. Undoubtedly, eBay's 66 million monthly app users will be happy with the new payment system, shoppers can even save their card details for ease of use.
Better conversion rates
Payment experience significantly impacts the shopping cart abandonment rate. In fact, one recent survey revealed that there are 3 reasons a bad checkout experience causes card abandonment:
21% of people abandon their cart when the checkout process is too complicated
17% of people abandon their cart when they don't trust a site with their credit card details
6% leave if there aren't enough payment methods
Every positive improvement to the checkout experience has a huge impact on your overall conversion rate.
A consolidated system
Your store's accounting and reporting is simplified when managing all of your payments in one place. According to eBay, the system was designed to facilitate convenient reconciliation.
Streamlined claims
All customer disputes will be handled directly by eBay – this way you won't have to jump between PayPal and eBay to settle an order claim. All your refunds, returns, fees, labels, tax documents, and payment scheduling will be done from their interface as well.
Automatic Payments
One big difference between eBay Managed Payments and PayPal is the ability to schedule payments straight to your bank account as often as you like.
The disadvantages of eBay managed payments
eBay has been quick to fix many issues with managed payments, but there are still some changes that sellers might struggle with. It looks like these particular pain points are here to stay.
Cash flow complications
Once eBay lists an order as 'awaiting shipment', sellers need to send it out. However, this update comes through when payment is approved – not when the funds enter your account.
For some sellers, slow payouts were causing cash flow issues. In response, eBay has shortened its processing times and says payments will be in your account within two business days of the order confirmation. It is also allowing sellers to pay for shipping labels out of their pending payments, thus speeding up the process even more.
However, this is a step down from the same-day access to funds many sellers were accustomed to with PayPal.
Listing restrictions
It's also worth mentioning that sellers using eBay managed payments cannot list certain items. Though eBay plans to facilitate payments for restricted items like coins, vehicles, and wine eventually, this may limit the listings of some sellers for the foreseeable future, making them stick to the current payment system.
More teething problems are likely to appear as eBay completes its rollout across marketplaces, but hopefully, it will continue to be responsive to seller input.
What are the fees involved with eBay managed payment fees?
So far, the advantages of using eBay's managed payments outweigh the disadvantages, and that carries over when you're looking at costs as well.
The good news is that eBay's Managed Payments system is more affordable than PayPal's current fees.
Where PayPal usually charges 2.9% +30p per transaction, eBay will charge 2.75% +25p per transaction. Keep in mind that this 25p fee is new and will be subject to change in the future.
To learn more about eBay Managed Payments fees – click here.
How can you activate eBay managed payments in Ad-Lister?
First of all, you will have to sign up for the eBay Managed Payments program on eBay and get invited. Once you are able to use the Managed payments option, you can simply tick the box within your listing template in Ad-Lister and revise your products to enable this feature on your listings.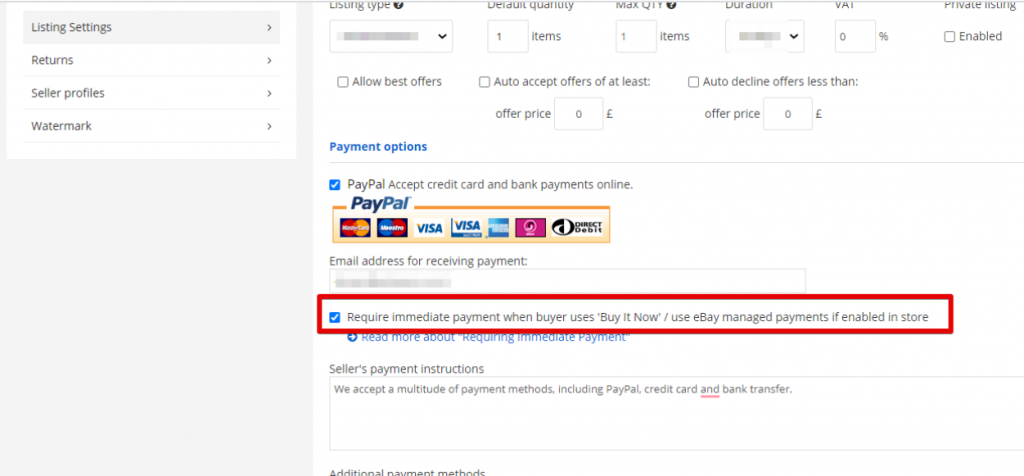 To sum it all up
eBay Managed payments is here to stay and most sellers will probably be moved over to this payment option by 2022. With its numerous advantages over the current payment system, it will definitely change sales performance overall.
Learn more: