How to start using Facebook Shops to improve your online presence
The Facebook Shops platform has been around for a while, but it lacked certain features that prevented it from becoming mainstream. With the current COVID-19 pandemic and some new features, it could save lots of small to medium-sized businesses from bankruptcy. As many as 25.000 stores could close this year, due to the pandemic, but while traffic in brick-and-mortar shops has slowed for most businesses, online purchases are booming.
In fact, the amount of money customers spend online has increased by over 30% in the first half of 2020, and online spending has accounted for nearly 19% of total retail sales during this period.
This means that businesses that had online shops set up saw an increase in sales during this period, and this proves that shops that are set up to sell online have an advantage right now.  And thanks to Facebook Shops, it's easier than ever for small to medium-sized businesses to launch an eCommerce store.
By setting up a free Facebook Shop, sellers can easily create an online store that lives on Facebook and Instagram and enables shoppers to browse and buy within two of the most popular social media apps. In this blog post, we will take a look at what is a Facebook Shop and what it can do for your business, as well as how you can start your own shop today!
What is a Facebook Shop?
Facebook Shops is a newly launched, mobile-first online shopping service. It lets businesses create an online shop for free, choose the items and products you want to feature, create collections and add a bit of brand difference with customisable fonts and colours.  The Facebook shopping experience for customers feels natural, after all they are making a purchase on a platform that they are already familiar with.
Why choose Facebook Shops?
You will be able to create a single, unified shop presence across the entire Facebook family of apps and services, meaning that you can implement a unified shop on Facebook, Instagram, Stories, and Ads, and coming soon is Messenger and WhatsApp.
Facebook Shops also offers a seamless checkout experience, because it stores the credit card information of the user when they make a purchase.
And soon, users will be able to do real-time shopping on Facebook and Instagram live, think of it as Teleshopping on social media.
Facebook is looking to implement AI into the Shops platform, allowing it to automatically identify and tag your products in photos, people will be able to link to product photos in Facebook and Instagram feeds.
Another interesting feature Facebook is looking to implement into its Shops platform is the use of Augmented Reality – you will be able to try on a pair of sunglasses in real-time, using AR – this technology is being used already by different filters that are available on Facebook photos.
Are there any Facebook shop fees?
At the moment, it's free to create a Facebook Shop. Once you start selling, Facebook may charge "selling fees", which include things like taxes and the cost of payment processing.
When a sale is made through your Facebook Shop, a selling fee will be deducted from your payout automatically. The selling fee is a flat fee of 40 cents for shipments of $8.00 or less, or 5% per shipment.
For example, if a purchase is $5, the selling fee would be a flat 40 cents. However, for a $10 purchase, the selling fee would be 50 cents.
The fee applies to all transactions on Facebook and Instagram when using Commerce Manager, and it includes both taxes and the cost of payment processing.
You can read more about the Facebook Selling Fees here.
How to set up a shop on Facebook?
Before you set up a shop on Facebook, you must meet the following criteria:
Be a Business Manager admin
Own your Facebook Page and catalog in the same Business Manager
Have Manage Page permissions for the Page and Manage catalog permissions for the catalog in Business Manager
Setting up is easy, especially if you already have a Facebook for Business account. Follow these simple steps and get to know the new tools and features:
You need to use a PC to set up your shop in the Facebook Commerce Manager.
First, you have to go to the Create Your Shop page and click Next.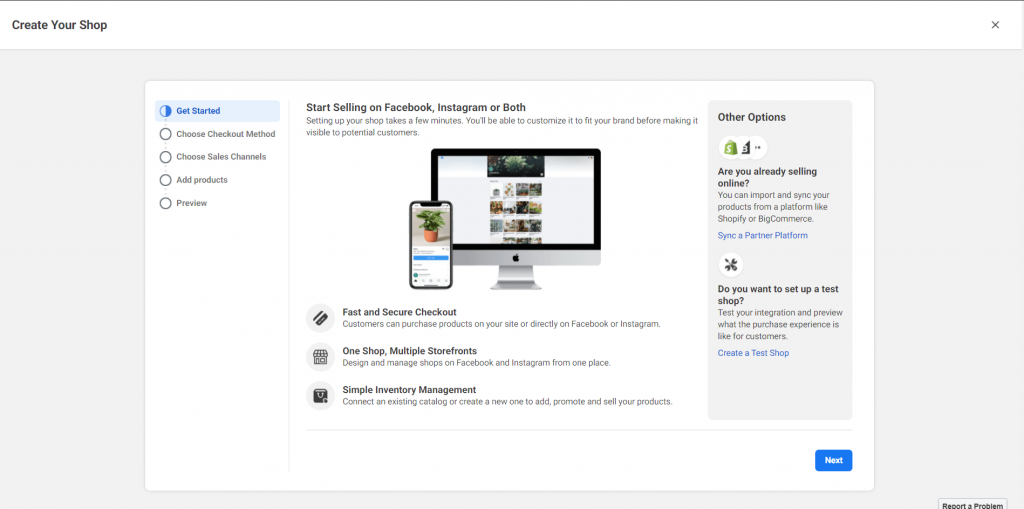 In the Choose Checkout Method section, you can choose one of the three checkout methods available. And click Next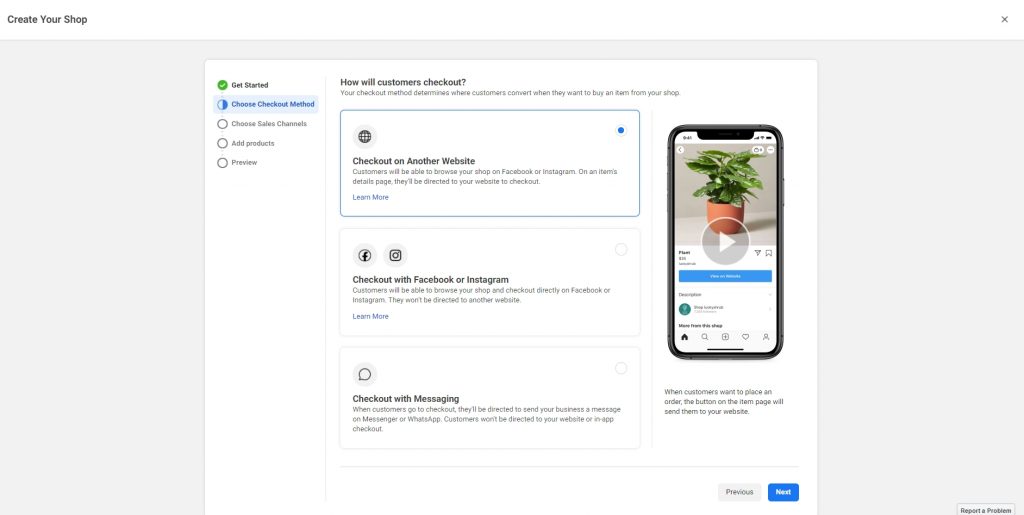 In the Choose Sales Channels section, connect your shop to your business Page, or create a new Page if you don't have one yet. Click Next.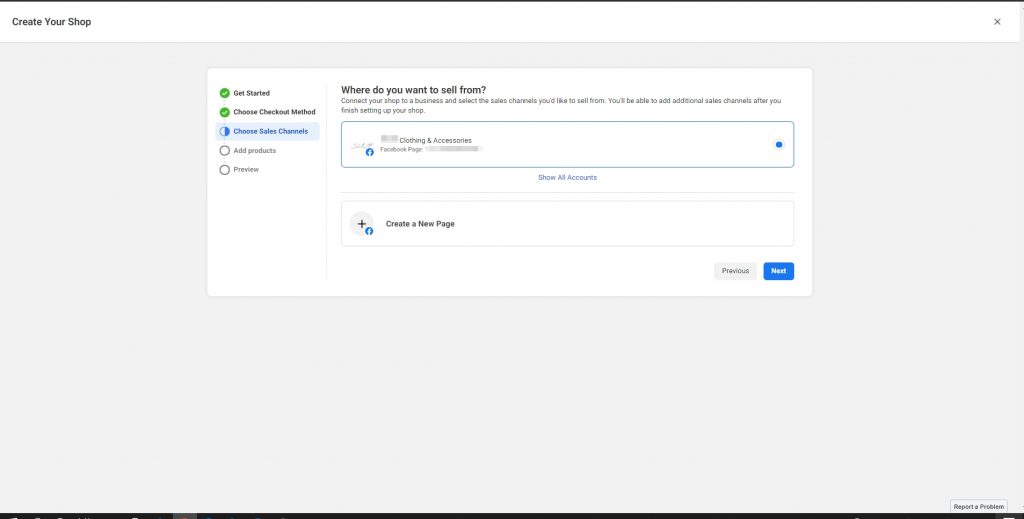 In the Connect Business Account section, select your business or create a new one. Click Next.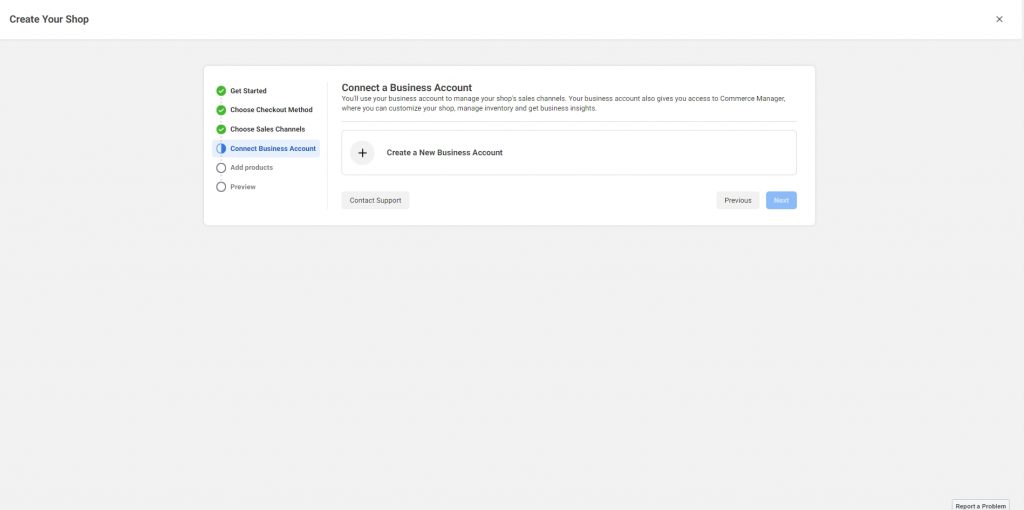 In the Add Products section, select an existing catalog or create a new one and click Next.
Note: You can only select one catalog to use for your shop and you can't switch it later.
Look over your shop details, review and agree to the Seller Agreement and click Finish Setup – And that's it, it's simple as that!
Adding products
You can add products manually, or you can use Ad-Lister to post your existing products on to the Facebook Shop.
How can you list products from Ad-Lister on to your Facebook Shop?
You can link your Facebook Shop with Ad-Lister following these simple steps:
Go to Ad-Lister and hover your mouse on Platforms and then click on Facebook
On the Facebook platform details page:

Add the Facebook Shop name to the Name Field
Enter the catalogue ID – that can be found on your Facebook Shop into the Catalogue Id field

Click on Get Token and continue with signing in, using your Facebook account.
Once you are done with linking Ad-Lister to your Facebook shop, there will be new fields available within your products, that you can fill using the right values:

The next step is to push the product over to your Facebook Shop, in order to do so, you will have to go to the Products page and tick the box in front of the product and then go to the Facebook dropdown and select Post to [Facebook Shop Name].

And in a couple of seconds, the product will be live on your Facebook Store.
This is the basic set-up. From here you can find out how to customize your Facebook Shop, and read Facebook's tips for making the most out of your shop, or you can read all about it in our upcoming blog post – Sign up to our Newsletter to get notified each time we post something fresh.
Learn more: