eBay or Amazon? Which platform should you choose?
eBay vs Amazon
So, you're trying to start your online selling career and you aren't yet convinced about which selling platform to choose? eBay or Amazon? Don't worry, you're not the only one with this dilemma.
Of course, eBay and Amazon are the go-to channels, as they are the most popular worldwide, by far. In a world filled with online marketplaces, eBay and Amazon are like titans compared to any other. But which one is the best of the two? What are the pros and cons of each platform? We will try to offer some useful advice in order to help you make the best decision.
eBay
eBay has expanded from auctions and collectibles to a huge consumer marketplace, with gross merchandise volume (GMV), set at approximately $94 billion a year. eBay has been struggling for years to cast off its flea market image and find a new identity but remains one of the largest e-commerce sites in the world nonetheless.
Amazon
Amazon, on the other hand, has grown from a humble bookstore to one of the largest companies in the world. Amazon's GMV is estimated at over $250 billion, with marketplace sellers accounting for around half of those sales. Its image is businesslike and ruthless, constantly innovating and generating buzz around its products.
Now, let's check their fees and make a clear comparison between the two entities. eBay seems to be the best selling platform for emerging and small businesses as their fees are lower. eBay charges two main types of selling fees: an insertion fee when you create a listing, and a final value fee when your item sells. In addition, there are PayPal processing fees to consider.
The insertion fee is charged per listing and per category and is typically around $0.35. But if you have an eBay Store (eBay Shop in the UK), you get a free listing allowance every month. There are different Store levels available, starting with the Basic Store at $28 per month and 250 free listings, ranging up to the Anchor Store at $350 per month.
The final value fee is a percentage of the final selling price. The percentage varies by category, but the typical rate is 10% on eBay.com and 9% on eBay.co.uk. You will also pay a fee to PayPal to process your payment. Standard PayPal fees are 2.9% of the selling price plus a $0.30 flat fee. eBay's partnership with PayPal will end in 2020 and they have signed a deal with a new provider, Adyen. eBay says sellers should expect lower payment processing fees with Adyen.
Amazon offers two types of accounts, individual and professional. Sellers with either type of account will pay a percentage of each sale to Amazon. This ranges from 8% to 25%, depending on the type of products sold by category.
Professional accounts cost $39.99 per month, whilst individual accounts are free to operate, but require an additional flat rate of $1 per item sold, so anyone selling more than 40 products per month would benefit from a professional membership.
Selling on Amazon means intense competition. With over 310 million customer accounts, 200 million visitors a month and around 2 million sellers, Amazon is an immense marketplace, which offers a huge reach for online sellers. Problem is, having such a large number of products means that sellers should do more than just simply list a product and wait for it to sell. Amazon's stiff competition only leaves room for professional sellers who are willing to spend time and resources to make their products more visible in searches and drive sales with positive reviews and great customer experience.
eBay, on the other hand, has somewhere around 167 million customers—that's a lot less than Amazon's reported 310 million. With a smaller customer base comes a huge responsibility to build up brand credibility. This is easier to do on eBay, as it offers shop analytics and seller success resources to enable sellers to grow their business, neither of which are offered by Amazon.
Conclusion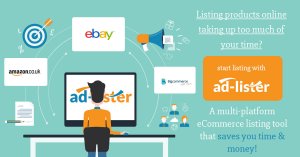 In the end, it is difficult to determine the best platform of the two. Each of them has its pros and cons, each of them offers enormous potential for any online business. Our advice would be to simply try both platforms and see which one fits better with your business plan.
 Ad-Lister allows you to manage your products and upload them to multiple sales channels when ready, being integrated with both eBay and Amazon.
You can check out how easily you can list on eBay and on Amazon by clicking on their links.
In other words, with our application, you will be able to see for yourself which channel to use for a bright future of your online business.