Tips for selling on eBay – best practices to improve the performance of your listings
Why should you follow these tips for selling on eBay ?
With over 1.2 billion listings on eBay, competition can be fierce. With each listing competing for the attention of eBay's 182 million active buyers, sellers have to make sure that they use best practices to get their listings in front of the designated audience.
Some eBay sellers aren't only skilled at getting their listings in front of potential buyers, completing sales, and gaining positive feedback – they're extremely successful at it. These sellers have years of experience when it comes to selling on eBay, so naturally, they have an advantage compared to new sellers on eBay.
In this blog post, we will share a couple of tips for selling on eBay that will help sellers bridge that experience gap and increase their store's overall performance.
So, what are the most important aspects when it comes to selling on eBay?
The listing Title

The first 4 keywords are the most important – they decide where your item will end up in the search rankings. Try to refrain from using symbols or Special icons in your titles, for example: + – _ £ &. These symbols damage your item's visibility, as eBay's algorithm is unsure of their purpose.
Try not to use item specifics in your title such as size colour or condition as these can be documented in the 'item specifics' fields on the listing.
Item Specifics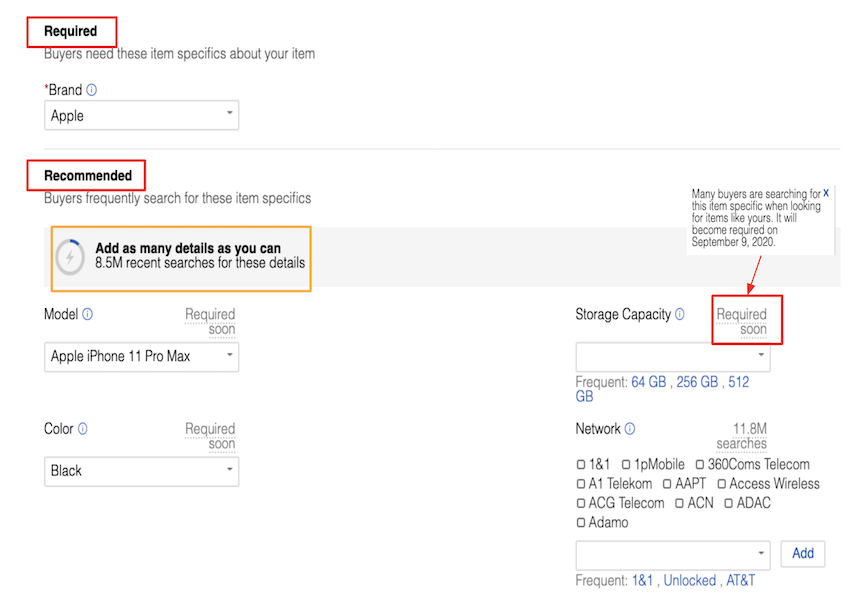 In most cases, eBay will offer recommended item specifics when creating a listing. If these are applicable, you should use these to quickly create your listings. Try leaving nothing to the buyer's imagination when listing your products on eBay by using as many item specifics as possible. This will improve your best match placement and any EANs or MPNs will allow people to track your items using Google search.
Remember, if you cannot find the right item specifics your items need on the ones offered by eBay, then you can add your own – such as your own Brand, MPN number, and so on.
Picture Quality and Quantity
Having high-quality pictures of the products you're selling is important, the better the picture quality the more appealing your listing will look to potential buyers. eBay offers sellers the opportunity to upload 12 pictures free of charge- the more pictures you upload, the lower the chances of a customer returning the product. More pictures may also improve your Best Match when it comes to eBay's search algorithm. If you are looking for tips on how to make the best product photos for your listings, check out our guide about How to take the perfect photos of the products you sell online.
Item Revisions – frequency of revisions
Constantly revising items on a daily basis can negatively impact your item's Best Match performance. eBay's search algorithm might believe that you are unsure of the item's price, description, specifics, and title, as a result, it's not comfortable placing your listings high in the search rankings. We advise that you only revise your items if needed, make sure you have enough quantity to cover a week of sales to avoid constant revisions.
Price and Postage
Offering additional services like Click and Collect and the Global Shipping Programme on your listings gives them another dimension in sales, as you will be open to a wider audience. People may not be comfortable getting items delivered to their address for many reasons, so they will look for sellers who offer Click and Collect. The global shipping Programme gives your listings international visibility which will only improve your sales and improve your Best Match placement.
Email Response time
Responding to your buyers with a 24-hour time-frame is said to be one of the factors that the algorithm looks at when it comes to your Best Match performance. Try to honour your buyers by being prompt and professional when it comes to replying to their requests.
Listing Practices
Re-listing an item or using 'sell similar' can determine your listing's Best Match performance. Re-listing an item that has been under-performing would not be best practice, as the Best Match performance of that listing will not improve much. We advise creating a fresh new listing in this case, as buyers like to see what's new on eBay.
Determine whether Sell Similar works best for you- rather than creating a listing from scratch. Please be mindful of the listing you are using to sell similar with, as the performance of that listing may not be strong.
Click-Through Rate
Identify your under-performing listings as these will negatively impact your click-through rate score- this can have a negative effect on your well-performing listings as well. End any stagnant listings and create fresh, new listings with competitive pricing to improve your sales and overall Best Match performance.
Duplicate listings
The more times you list an item, the higher the chances of it selling, right? Wrong!
eBay's search algorithm can easily identify duplicate listings and it will penalize the performance of both of your listings. You might also receive a warning message from eBay regarding your duplicate listings and how they can negatively impact the overall performance of your store.
Final thoughts
If you are new to selling on eBay, you may not be able to implement these tips immediately. For example, it takes time for your listings to rank, or you might need to gather all the details related to the products you're selling.
However, even if you're only just getting started with listing your products on eBay, it's clear that there are numerous tips that you can follow to ensure that you create successful listings from the start.
There are some tools that we recommend when it comes to listing on eBay – for eBay analytics, we recommend Similarweb's analytics tool,  and for listing products on eBay, we've built a custom piece software that helps you get all the essential details right from the start – Ad-Lister. Using the software, you can identify duplicate listing, missing Item Specifics, and a lot more. We hope that you've found our tips for selling on eBay useful and that it helps to increase your store's performance. If you have any questions about how we can help with increasing you sell more on eBay, please feel free to contact us.
Learn more: