Why is it important to set up 2 step verification on your eBay account
In the digital world that we live in, our virtual identity has become as important as the real one. We are giving more and more importance to our virtual presence, activity on social media, how we act and how we are perceived online.
There will be always people after your personal information or even people who will try and steal from you – with digital frauds at a record high, keeping your eBay account and data safe is becoming a priority.
Once someone gets access to your account, not only can they cause you financial loss, but also loss of reputation and brand image – which might result in you getting banned from eBay, your brand getting discredited.
This is why you should think about taking cyber-security seriously – you might be thinking that "wait, I have a long and complex password, I am safe from being compromised!"- this is where you might be wrong. Using a complex password doesn't solve the security issue completely. Since we tend to reuse the same passwords everywhere, if one of your accounts gets compromised, it can cause a domino effect resulting in all of your accounts getting compromised. According to a survey conducted by TeleSign, 73% of accounts are guarded by duplicate passwords and 54% of people use five or fewer passwords across their entire online life.
So, using a unique password for each website should solve this issue, right? – No.
Even though websites save your sensitive information such as passwords in an encrypted format – they can still get compromised in case of a data breach at the server level. That's why more and more companies are adopting 2-factor authentication.
What is 2-factor authentication?
Until now the standard was one layer of security – which was your password. You simply entered your password and then you could just access your account – this process is good, but not without its security flaws.
Two-factor authentication (2FA) adds an additional security layer to the login process, significantly reducing the chances of your account getting compromised. With 2FA active, just knowing and entering your password is not enough – this new layer of security can be anything like a One Time Password (which can be sent via SMS or email), an auto-generated code, or biometric verification on a device you own. All of these extra steps are time-sensitive, making them more secure.
Enabling 2 step verification on your eBay account
To add that much needed extra protection to your eBay account, eBay's 2FA system can send a text message or a notification through the eBay app to use alongside your eBay username and password.
Here are the steps to enabling 2-Factor Authentication on your eBay account:
1. Log into your eBay account and proceed by clicking on "My eBay"
"My eBay" can be found on the top of the screen on the right-hand side.

2. Find and Click on "Account"
Then you will be able to see three tabs: Activity, Messages and Account. Click on the Account tab

3. Click on "personal information"
You should be able to see "Personal information and privacy" on the top of the page, and below that, you will be able to see "Personal information"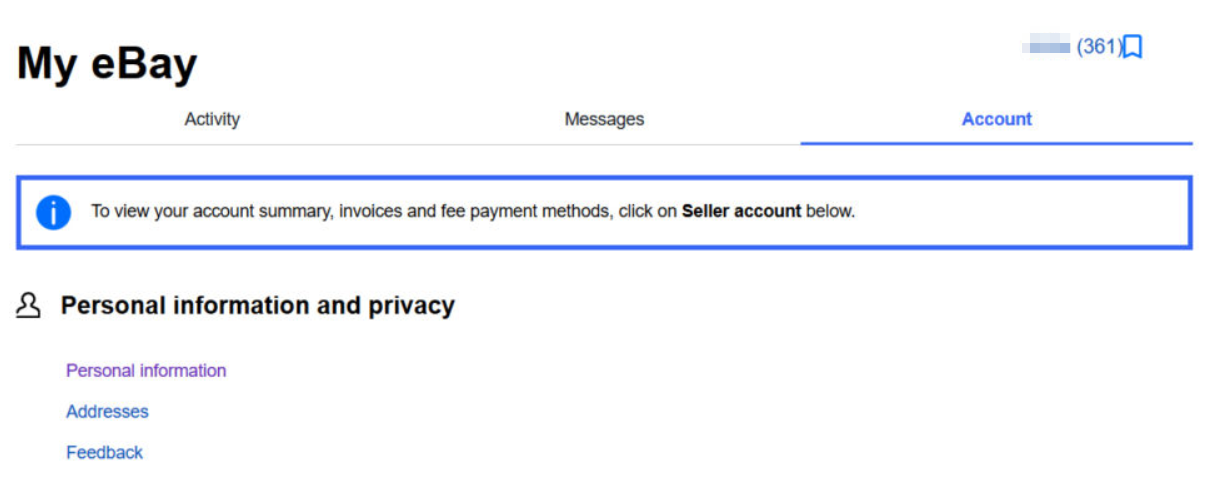 4. Click on "2-Step Verification"
Scroll down until you can see the "Security Information" section and click on "Edit"

5. You will be asked to log into your eBay account again
You will have to sign in with your normal eBay username and password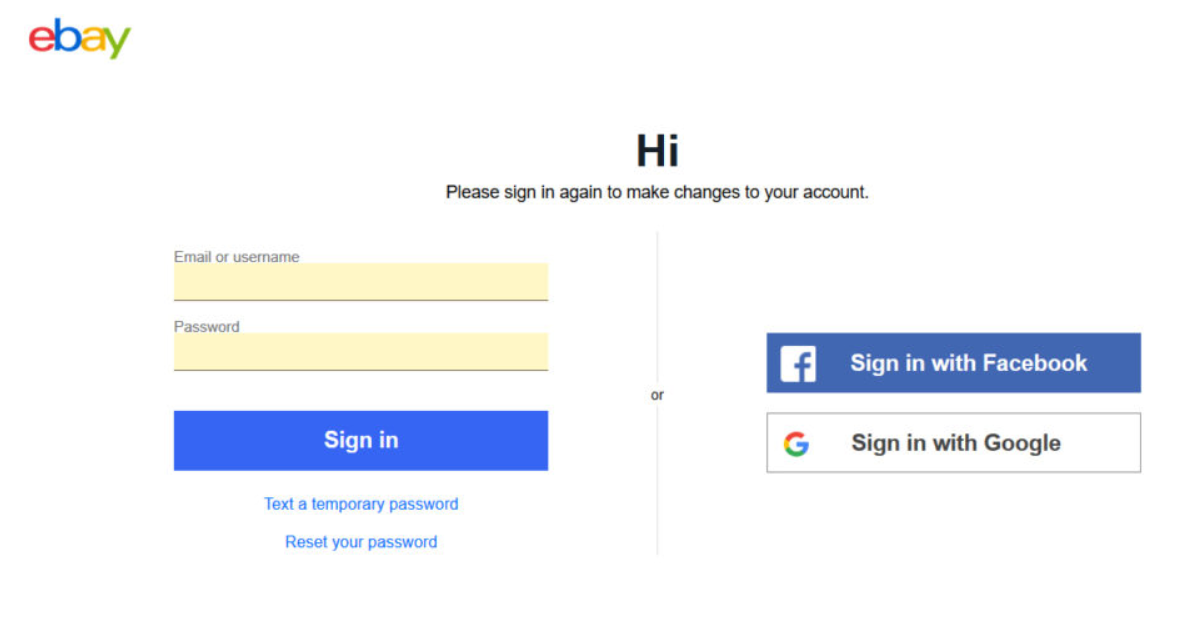 6. Choose the preferred 2FA method
You can choose between two methods – Text message or notifications via the eBay App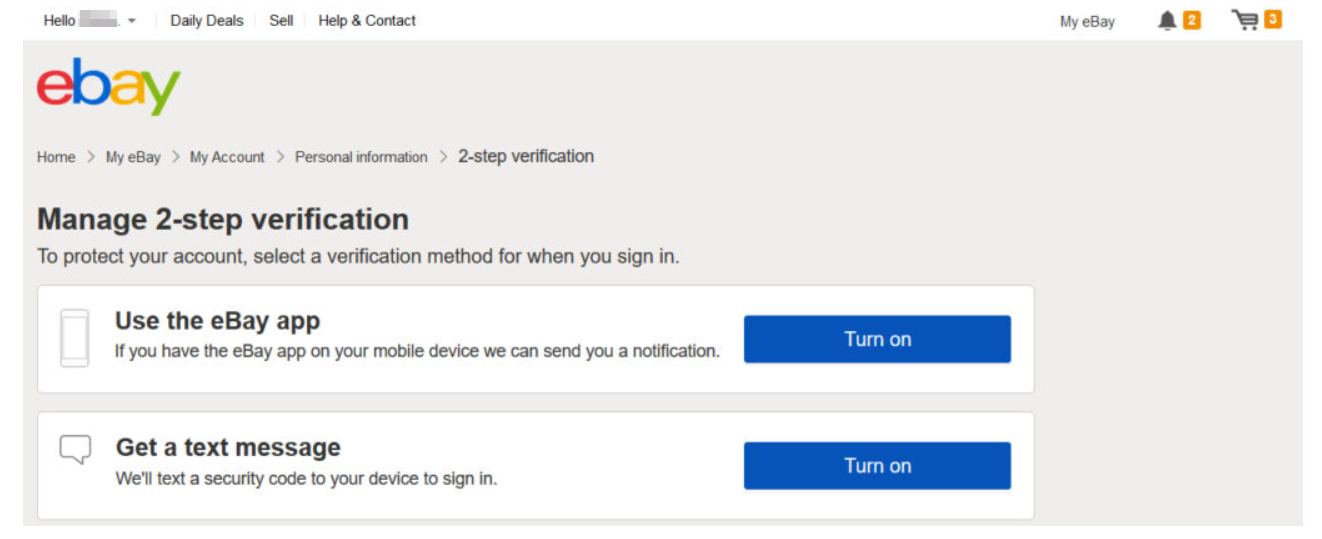 7. Confirm your 2-Step Verification
At this stage, you will get a text message to confirm the use of the 2-Step verification method – from now on, you will get a text message each time you log in to your eBay account

8. Get the code on your email – optional
If you are outside of mobile coverage, you can request the code via email as well – This is especially useful if you have multiple people using your eBay account as they won't have your mobile phone with them, but you can grant them access to your emails. To get the ebay 2-step verification code via email, click on the "Need help signing in" link and there you can request eBay to send you an email to verify your ID.

9. The last and final step is confirming the setup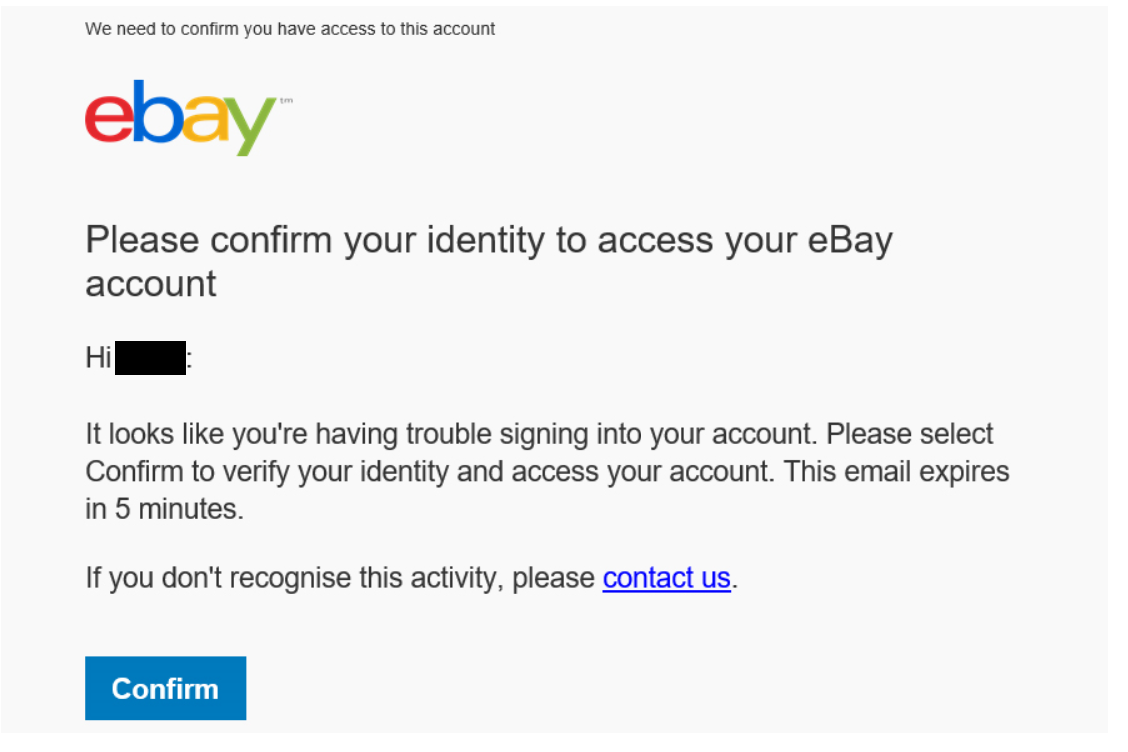 After clicking on "Confirm" in the email, you will be logged into eBay with a confirmation message in your browser.

Following these steps will not only make your eBay account more secure, it will also grant you more control of who is allowed to login and use the account.
A safer method to allow other users to list on your eBay store would be using a 3rd party tool that uses secure tokens to list and revise listings – meaning that you don't have to give anyone your eBay login details. Ad- Lister also features multiple users, you can see which one of your employees has listed or edited your items – offering you a complete overview of the actions.
You can sign up for a free trial of Ad-Lister directly from our website, or you can contact our support team for more information on +44 0121 285 1052.
Learn more: