Save time with bulk listing on eBay
eBay is a great platform to sell your merchandise online- it has been building an international market for years, meaning that there are hundreds if not thousands of buyers searching for your products every day. Thanks to this fact, eBay offers the perfect environment for your business to grow but unfortunately, as you scale your business, the process of listing your items on eBay gets more complicated. When you've got a lot of active listings it becomes more time-consuming to make changes to them – this where tools that allow you to bulk edit eBay listings come in handy.
These tools can significantly reduce the amount of time it takes to manage your eBay store by offering you the ability to bulk edit eBay listing and to bulk list on eBay.
Sellers who start using tools that allow them to bulk list or bulk edit eBay products gain a significant advantage by investing the amount of time they save to further expand their business.
Let's have a look at what advantages can a bulk listing/editing tool offer:
You can do a lot in a short period of time
Speed is probably one of the biggest benefits of using a bulk listing tool. Each listing you create ca take as long as ten minutes to list, especially if you take your time writing the descriptions and adding a lot of pictures. A bulk eBay listing tool can post numerous products at once, which will save you hours of valuable time. You can use this time to focus on growing your business or you can use it to spend time with your loved ones. Of course, if you only have a few products for sale, a bulk listing tool won't do much for you, but if you are planning on creating hundreds of products, then a tool like this can save you hours.
It makes listing products easier
This might not be as important as saving time – but a bulk listing tool can make your job simpler, saving you energy for other tasks. There are many key tasks that you have to do on a daily basis when it comes to running an eBay store, with the proper listing/editing tool there's one less task you have to worry about.
Increased accuracy        
After creating a lot of listings one after the other, you're likely to start missing things – crucial information that would help with the ranking of your listings. Mistakes in eBay listings can also cause all sorts of problems, from unhappy customers to take a loss on a product due to incorrect pricing. Using a bulk listing tool can help prevent these mistakes.
It makes updating your products easier
After getting hundreds if not thousands of listings up and running, you'll have to keep them up to date- with eBay's forever-changing policies, you're going to invest a lot of time in tinkering your listings. With an eBay bulk listing tool, you don't have to worry about putting in even more time to correct or maintain your work. Using a bulk listing tool, you can change your listings all at once without having to be careful with editing each one individually.
It can help you boost the bottom line
When selling online, you want to invest as little money as possible to reap the biggest rewards. A bulk listing tool can help you do just that! You don't have to worry about paying other people to list or update products for you. Not to mention that the faster you list your products, the faster you can start selling, which means more profit for you.
Bulk listing/editing solutions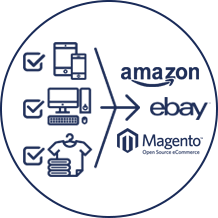 Ad-Lister is a multi-channel listing tool that was developed to make running your online business easier – that's why it has plenty of bulk editing features as well – you can use Ad-Lister to bulk edit almost everything, from titles to prices, weights, descriptions, etc.
You can choose to bulk edit eBay listings using the Ad-Lister interface or you can do it via a CSV spreadsheet. If you feel more comfortable with working in Excel – then no problem! You can easily bulk download your inventory from our listing software and edit it locally on your PC.
After downloading the file, you can just open it using Microsoft Excel or any other software capable of editing CSV files and get on with editing the products. Once you're done, you can save it as a new file (keeping the old one as a backup – better to be safe than sorry) and just simply upload it back into Ad-Lister. After uploading the file you can bulk revise your listings to push the changes on to eBay.
Overall, a bulk listing tool can have a significant impact on the way you spend time running your business. Using Ad-Lister, it only takes a couple of minutes for you to accomplish tasks that would have taken you hours before, and this can prove to be essential when it comes to the growth and scalability of your business.
Learn more: